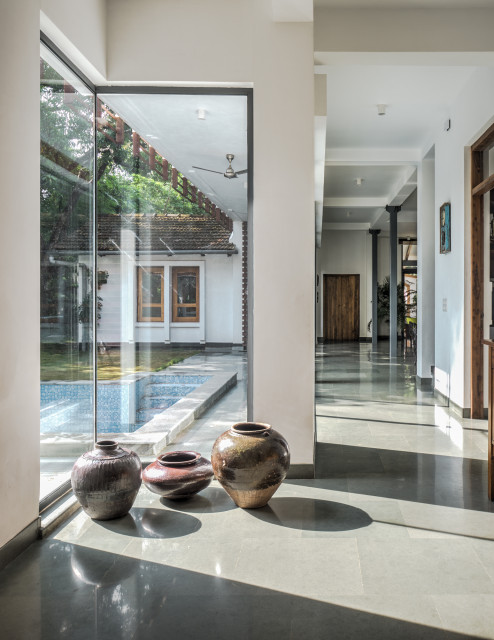 The Foyer with a View, Navovado
Navovado is located on a flat plot of land in Goa, flanked by Goan houses and village roads on its four sides. The vacation home is designed as a private oasis; a courtyard home that is connected to nature. A contemporary home that fit into the village landscape. The front façade has a low pitched tiled roof to merge with the scale of the neighboring homes. At the same time, the façade is contemporary with clean lines, a red door and a composition of square pre-cast windows in exposed concrete.

The heart of Navovado lies in the large central courtyard that is an extension of the kitchen, living and dining rooms. The main living room and bedrooms on the ground floor are like pavilions that contain the courtyard on its sides. The courtyard houses the swimming pool and provides a green private space to be enjoyed by all the residents of the house. The courtyard morphs in its use depending on the time of day and occasion. The first floor bedrooms have a large terrace overlooking the courtyard, connecting the two levels.

This home is our ode to the masters; Correa, Doshi and Bawa. The focus in on simple pitched roofs, white walls and the intersection between indoors and outdoors. The design for doors and windows were of great importance in this project, we wanted them to frame views, provide seamless interaction with the outdoors and bring breeze and light into the interiors. The interiors are kept simple and timeless. The teak wood furniture, doors and windows take center stage among the white walls. Color is added through upholstered furniture. The rest of the interior palate is kept subtle and monochrome with grey IPS, green Kota and yellow Jaisalmer.


Corridors with Similar Colours