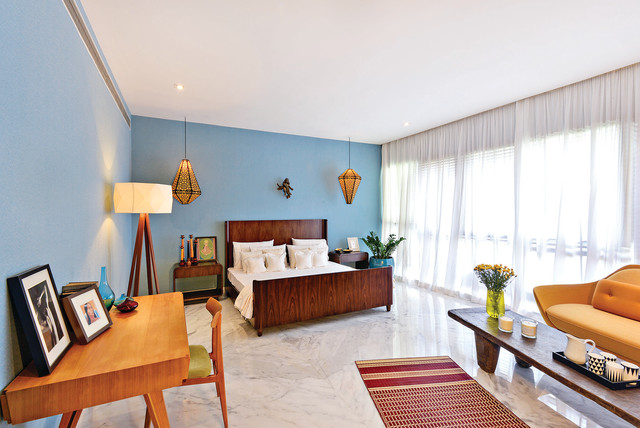 Marvel Realtors Project, Pune
What Houzz contributors are saying:

Aditi Sharma Maheshwari added this to Chic, Smart Desk Designs for Urban Homes
19 April 2018
2. No frills attached – this clean-lined wooden desk holds a bunch of photographs, a tiny vase and has space to accommodate a laptop, a book or a diary for writing. It fits perfectly inside this bedroom, sharing hues with the yellow sofa behind it.

Aditi Sharma Maheshwari added this to Fighting Pollution: How to Keep Your Indoor Air Clean
20 November 2017
Opt for low-VOC productsIf you are planning on buying a new carpet, painting your home, redoing your flooring or purchasing new furniture, look for products that are low in volatile organic compounds (VOCs). These are chemical compounds found in building materials such as cement, paint primer, paints, adhesives, PVC components and furnishings, which evaporate into the surrounding environment over time and lead to health problems like headaches, respiratory issues, fatigue, poor concentration and allergic reactions. There is more awareness about the effects of VOCs now and you can find manufacturers that offer products with fewer toxic emissions.Find out the secret to a long-lasting paint job

Krita Raut added this to 9 Gorgeous Apartment Bedrooms That Are Fit for Bungalows
13 February 2017
2. Retro and brightPowder-blue walls and a variety of furniture pieces – this spacious bedroom reflects a retro style. Here, eclectic pieces fit together to somehow give a cohesive, vibrant look. The low bed and the side tables are so 1970s, as are the study table, chair and floor lamp. The mustard-yellow sofa is the statement piece of the room. Its colour and curves play against the angles of the wooden study table. All the colours in the room are balanced by the natural light filtering in through the white-curtained floor-to-ceiling windows that line the length of the room.Find an interior designer to design your dream bedroom
Bedrooms with Similar Colours