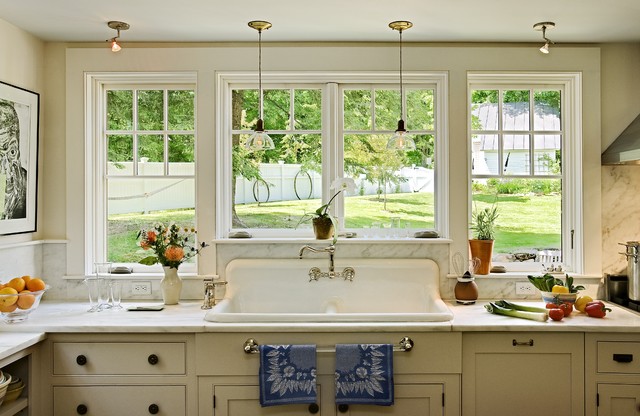 Repurposing a salvaged sink
This salvaged kitchen sink was found awhile ago by the client who new she wanted to use it if ever she renovated. Integrated beautifully into the Danby marble countertop and backsplash with new fixtures it is a real joy to clean up.
This kitchen was formerly a dark paneled, cluttered, divided space with little natural light. By eliminating partitions and creating an open floorplan, as well as adding modern windows with traditional detailing, providing lovingly detailed built-ins for the clients extensive collection of beautiful dishes, and lightening up the color palette we were able to create a rather miraculous transformation.
Renovation/Addition. Rob Karosis Photography
What Houzz contributors are saying:

Becky Dietrich, Interior Designer added this to The Secret to Having a Blemish-Free White Kitchen
8 May 2019
I would die for this sink. Until it started to look like I actually used it, that is. The white sinks in my home take approximately five minutes to look yucky. You can brighten them and remove stains with common household bleach. Experts suggest laying paper towels flat across the bottom of the sink and wetting them with bleach. This prevents the bleach from running straight down the drain. Leave the paper towels in place for half an hour to allow the bleach to do its job, then remove them and rinse the sink thoroughly with warm water. For a more natural solution, fill the sink with club soda and lemon juice and let this mixture lift the stains as it soaks in. After you empty the sink, apply straight lemon juice directly to any stubborn stains. You may have to repeat this process several times.If this sounds like way too much work, adopt my husband's favourite tool: Bar Keepers Friend. If you use it on your sink every day, no other upkeep will be required. (I use it on way more than my sink; it keeps pots and pans looking like new as well.)

David K Warfel at LightCanHelpYou.com added this to How to Light Kitchen Counters
22 January 2019
5. Sink and range lightingIf you're washing your dishes by hand, it's nice to actually see what you're doing. For nighttime illumination, don't add just one small recessed light or pendant light above your sink and call it day. Instead, add multiple lights over your sink, as shown in this kitchen designed by Smith & Vansant Architects PC.Pay attention to lighting when purchasing your range hood as well. Depending on the width of your cook surface, 750 to 1,000 lumens of high-quality light is a good starting point.