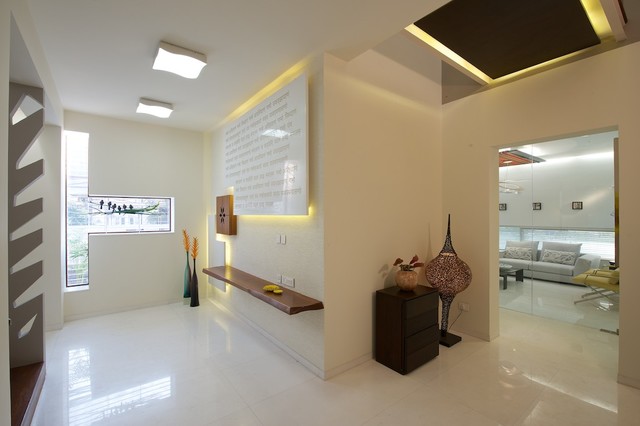 What Houzz contributors are saying:

Vaishnavi Nayel Talawadekar added this to Divine Inspiration: 12 Puja Room Ideas for Tight Spaces
4 January 2018
Prayer plaqueThis white sanctuary offers a peaceful retreat for moments of peace and prayer. It isn't a conventional worship space, missing the usual elements associated with a mandir. However, it resonates with the same spirit. The backlit plaque is etched with Sanskrit shlokas and the ledge beneath works as a perfect host to basic elements like a lamp and flowers.Read more:10 Elements That Will Bring a Sparkle to Your Puja RoomA Stepwise Guide to Building a Puja RoomTell us:Have you come across any stunning puja corners? Share them with us in Comments below.

Pooja Khanna Tyagi added this to 10 Elements That Will Bring a Sparkle to Your Puja Room
6 February 2017
10. In this space, classical Sanskrit verses or shlokas etched on a back-lit board set the mood. This kind of space can also act as a shrine. Note the soothing ambience created with the help of light colours and minimal accessories. Though traditional puja rooms have figures of deities, one could also consider having only pictures or calligraphy mounted on the walls in innovative ways like this for a more contemporary feel. Tip: An inside-outside space, such as the balcony or a gazebo on the rooftop or lawn, could also be an ideal spot for prayer. Give the space an aura of piety with some symbolic artwork or sculptures, puja asanas (prayer mats), diyas and a tulsi (sacred basil) plant. Read more:How to Add a Jhoola (Swing) in Your Home10 Ways to Add Jaalis to a Contemporary HomeTell us: Do you have any other ideas how mandirs can be integrated within a home? Share in the Comments section below.
What Houzzers are commenting on:

Entryways with Similar Colours