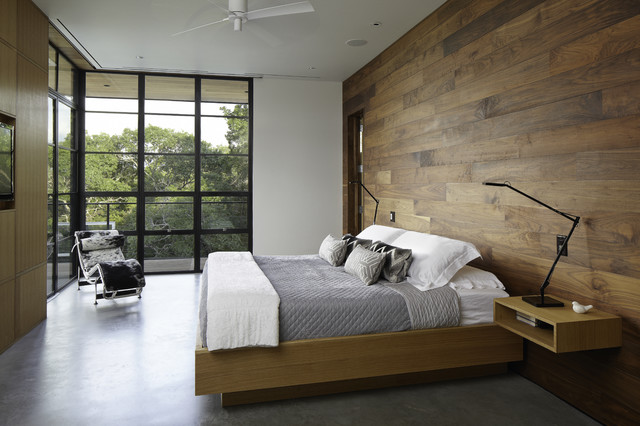 Hill Country Residence
Nestled into sloping topography, the design of this home allows privacy from the street while providing unique vistas throughout the house and to the surrounding hill country and downtown skyline. Layering rooms with each other as well as circulation galleries, insures seclusion while allowing stunning downtown views. The owners' goals of creating a home with a contemporary flow and finish while providing a warm setting for daily life was accomplished through mixing warm natural finishes such as stained wood with gray tones in concrete and local limestone. The home's program also hinged around using both passive and active green features. Sustainable elements include geothermal heating/cooling, rainwater harvesting, spray foam insulation, high efficiency glazing, recessing lower spaces into the hillside on the west side, and roof/overhang design to provide passive solar coverage of walls and windows. The resulting design is a sustainably balanced, visually pleasing home which reflects the lifestyle and needs of the clients.

Photography by Andrew Pogue
What Houzz contributors are saying:

Samantha Schoech added this to How to Work With Brown Colour
23 October 2017
Nice orange-brown wood panelling paired with greys and whites and lots of light. It's rich and warm, but not oppressive. Read more:How Brown Can Be the Hero of Your DecorColour Me Bold: 11 Ways to Energise Your HomeTell us:How have you used brown around your home? Share images/tell us in the Comments below.

Tugman Studio added this to Good Design: 11 Ways to Bring the Wow Factor Into Your Home
20 October 2017
Carefully choose your materialsWhen I was a student of architecture, one of my most influential tutors talked about the design process in terms of form being derived from function (which is a very modernist idea), but then being 'nourished' with materials. I still to this day retain that wonderful idea that the choices of timber, stone, glass, tiles, metal, brick and fabric all 'nourish' our designs and help them become human.To give you an example, stainless steel is a wonderfully practical material for kitchen worktops, but many people feel it gives too clinical a feel to be appropriate for a home. Timber worktops can be more 'homely', but are less hard-wearing and practical. Combining the two might seem like a mishmash, but with careful design the best of both worlds can be really beautiful.Here's how you can make your kitchen standout with stainless steel
Bedrooms with Similar Colours