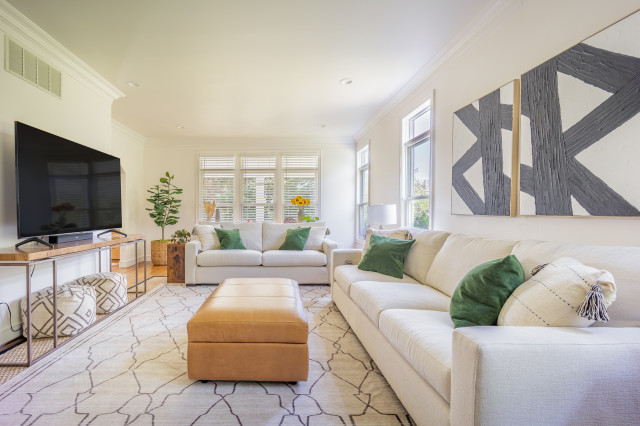 Hampton's Naturalist - Water Mill, NY
The unique two sided fireplace looked a bit lost in the space, and there was a lot to contend with from patchwork walls that the previous owners had added. The wall space above the fireplace was opened in order to allow the flow of light into the room and enhance the two-sided nature of the brick fireplace. Custom reclaimed barnwood shelves and mantle were sourced in Maine, finishing the wall and drawing the eye to the fireplace.

Soft furnishings were added, creating a comfortable place for the family to watch TV, Swivels serve to create a conversational friendly atmosphere, or can be turned to enjoy the cozy fire.

Stain resistant fabrics and washable rugs make this room safe for children and pets. Recessed lighting was installed and the wall was extended to allow for the TV, the inlay in the floor adjusted to fit the new imprint.
Living Rooms with Similar Colours