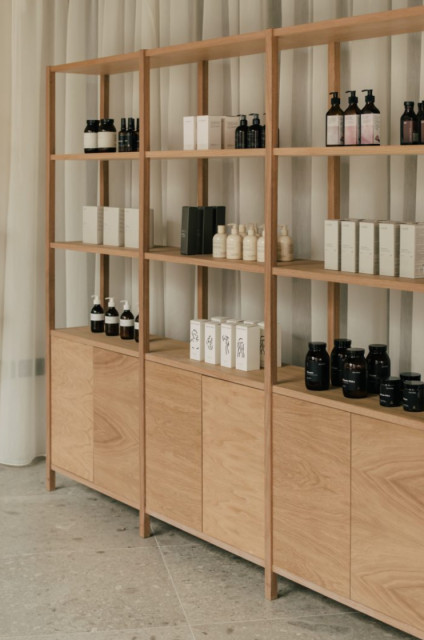 Glasshouse
Finding a distinct lack of well designed products with decent sustainability credentials in the salon furniture market, the designers selected to create an almost entirely bespoke furniture package.
Furniture items that didn't make sense to custom make were sourced from brands that produce within Europe and the UK. The cutting station table surfaces are cut from panels made out of recycled plastic reclaimed from appliances and have an almost sandstone-like cream colour and uneven texture to it. To minimise waste as much as possible the offcuts from these parts were used to create occasional tables for the waiting area.

The walls of the space have been finished with a subtly rough dolomite plaster from Danish brand St Leo. This was chosen for its natural texture and the fact that it has been awarded the Nordic Swan ecolabel, one of the highest sustainability certifications available.
Curtains in a pale warm grey have been used to divide the space and improve the acoustics while allowing for the main retail area to be quickly and easily configured for events, such as workshops, product launches and wellness classes.

The references to natural spaces are further hinted at through the use of floor tiles with a stone like finish, while accommodating the rigorous low maintenance and durability requirements of a business dealing with permanent colour.

Wine Cellars with Similar Colours