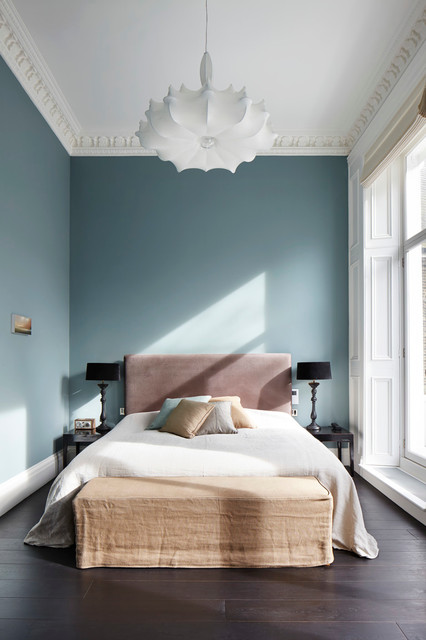 Emperors Gate, South Kensington, London
Jack Hobhouse Photography
What Houzz contributors are saying:

Feioi added this to 13 Things You Must Know Before Painting a Room
2 May 2019
Test it outTester pots exist for a reason and now is not the time to skimp. It's well worth picking up a tester pot of your chosen colour, even if you think you're really sure. Still deliberating? Narrow it down to a few and purchase your shortlist. Firstly, do not paint directly onto the wall. Waste of time, waste of paint. Paint up a sheet of card, at least A4 but the bigger the better. Make sure you apply at least two coats. Now you can lay it out with your other samples of tiles, flooring and fabrics to see how they work together. With the card swatches, you can easily try different colours to see which one works best. It's also very useful when you're shopping for other items, as you can just take it with you. Stick the painted sheet onto the wall to see how it will actually look in the room. You should leave it there for a few days to see how you feel about it over time. If you're unsure about a colour, living with it for a few days usually results in you loving or hating it. Move it around the room at different times of the day, too, and consider how it looks in natural light, artificial light and shadow. Just look at how the paint colour differs in the various points in this bedroom. Compare the tone where the sunlight hits it above the bed to the top corner where it gets less light. The colour will vary so much, and you need to make sure you're happy with it in every position.

Susannah Hutchison added this to 10 Refreshing Bedroom Wall Colours
1 November 2018
Go mid blueWhen a bedroom has a good natural light source, a mid blue such as the one here looks calm and inviting. When trying out tester pots of any colour, remember to see how the light alters how the shade appears at different times of the day before making a final selection.Find an interior designer to help design your bedroom