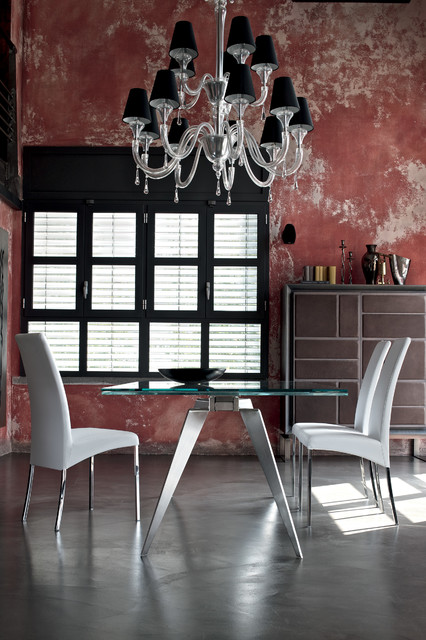 Ramos Extension Dining Table by Bontempi Casa
In 1963, Alessandro and Giancarlo Bontempi began to lay the foundation for what would become Bontempi Casa, one of the finest Italian design firms in the world today. The two were already recognized as talented Italian designers, known specifically for their innovative, award-winning interpretations of tables and chairs. Since the 1980s, Bontempi Casa has offered a wide range of modern furniture, but chairs remain the stars of the company's collection. The room service 360° collection of Bontempi Casa chairs includes the best of the best.

Welcome to room service 360°, the premier destination for the world's finest modern furniture. As an authorized dealer of the most respected furniture manufacturers in Europe, room service 360° is uniquely positioned to offer the most complete, most comprehensive and most exclusive collections of custom contemporary and modern furniture available on the market today. From world renowned designers at Bonaldo, Cattelan Italia, Fiam Italia, Foscarini, Gamma Arredamenti, Pianca, Presotto Italia, Tonelli and Tonin Casa, only the finest Italian furniture collections are represented at room service 360°.

On our website you will find the latest collections from top European contemporary/modern furniture designers, leading Italian furniture manufacturers and many exclusive products. We are also proud and excited to offer our interior design blog as an ongoing resource for design fanatics, curious souls and anyone who is looking to be inspired.

In our Philadelphia showroom we carefully select our products and change them frequently to provide our customers with the best possible mix through which they can envision their room's décor and their life. This is the reason why many of our customers (thank you all!!!) travel for hours, and some fly to our store. This is the reason why we have earned the privilege to be the starting point for modern living for many of you.
Dining Rooms with Similar Colours