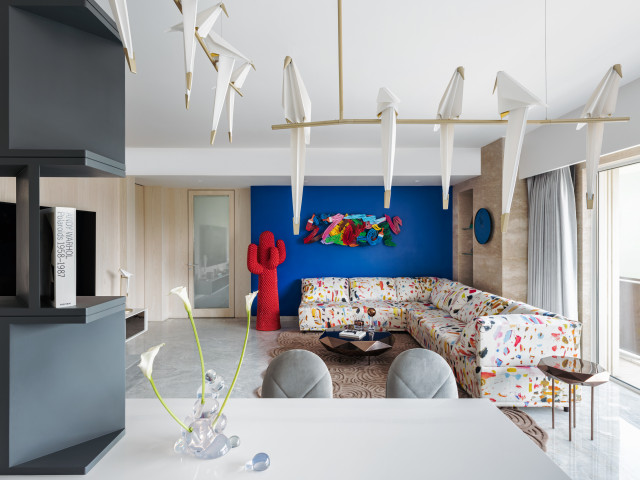 Pop Art Home
This living room surprises and delights like a special effects machine. Jannat Vasi opted for bold
dramatic modernity instead of going down the conventional route of furniture, surfaces and classic
materials. Jannat Vasi's vision was to create an identity defining impact when you enter the home which
sets the tone for the rest of the spaces.

The artistic brushstrokes of the Pierre Frey fabric on this sofa is dramatically uplifted against the embossed rug and bronze metal furniture from Scarlet Splendour. The polished CMC marble floor and white veneer walls from Tabu balance the strong identity of the colourful areas.

The simplicity of the white allows for the richness of colour to emerge and holds everything in a cohesive legibility. Additionally, the delicate qualities of furniture details and lighting stand out.

The red Gufram Rosso Cactus of the living room works together with the drenched blue wall, whilst the plain walls here allow the David Kracov artwork and other pieces to breathe.

To enhance visual relationships, the custom juxtaposed bookshelf with a projected cantilever dining table is an interesting feature. This piece showcases the designer's love for designing in three dimensionality.
Living Rooms with Similar Colours