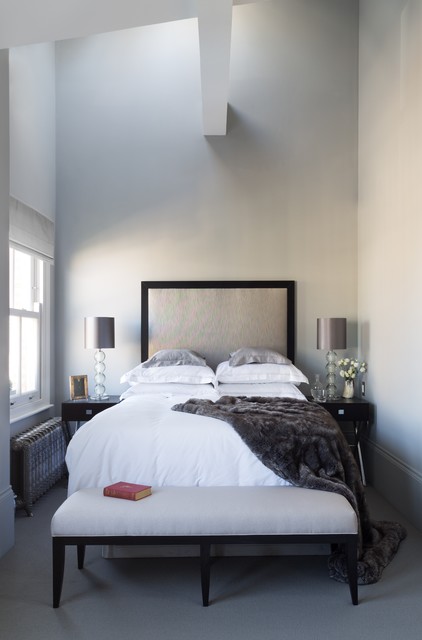 Mark Feehily Collaboration
Tall light grey bedroom walls towering above super king sized bed. Two black bedside tables with steel legs on either side of white covered bed. Dark fur sheet along end of bed. End of bed light grey table. Slanted ceiling with exposed beam letting skylight effortlessly fill room with life.
What Houzz contributors are saying:

Vinita Kunnath added this to 10 Ways to Transform a Tiny Bedroom Into a Luxury Pad
14 June 2018
4. Get yourself a bedroom bench Bedroom benches and ottomans are wonderfully versatile and a great style addition. From doubling as storage for linen to being used as a coffee table to providing additional seating in bedrooms, a bench is a must, especially when free space is a luxury. Bonus points if the bench matches the headboard.

Cheryl Freedman added this to The Dos and Don'ts While Designing a Small Bedroom
15 May 2017
Do: Copy hotel styleMany boutique hotels have tiny rooms, yet guests hardly notice, as they're so carefully decorated. Copy some of the tricks they employ: A padded headboard, plush throws and multiple pillows will offer a similar scaled-down luxury at home. Try to slot in bedside tables, even if they're just small shelves, for somewhere to set down a morning cuppa.Search for more bedroom ideas in photos
What Houzzers are commenting on:
HU-574834511 added this to 寝室
6 days ago
狭い部屋は、 濃い色を少し使って引き締めて 窓周りは、スッキリ!フラット!
Olga Rez added this to Ремонт 2021 Год
23 January 2021
Как на мой креативный(,!) вкус, эта покрашенная устаревшая батарея прибавляет шарма в комнате.