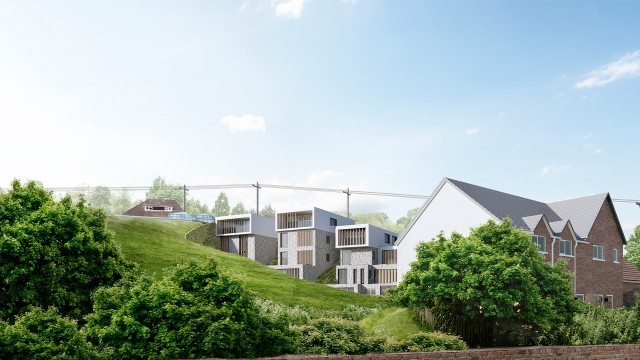 Churchill Place

Our team was tasked to produce a truly unique proposal which worked with an extreme slope over this .5 acre site. We unlocked the value of the land by making the development feasible – as unusual challenge considering the preparatory works involved and required. Our solution presents 3-storey, 4-storey and 5-storey townhouses to the rear, though these appear as normal 1-storey and 2-storey properties from the front elevation. The properties gradually step down with the access road slope.

Many ingenious solutions were sought and successfully found, through axis development, louvre systems for privacy and amenity, materiality in relation to context and structurally in relation to the challenging site.

Materiality was derived from the historic use of the site – a chalk quarry – thus flint and stone are predominant and drive the vision forward, ensuring that the proposal fits into its surroundings, yet is able to provide high quality contemporary living standards.

Our proposal provides 6 new-build dwellings in a location with measurable recorded housing demand, inside the settlement boundary, on a challenging brownfield site.
Exteriors with Similar Colours