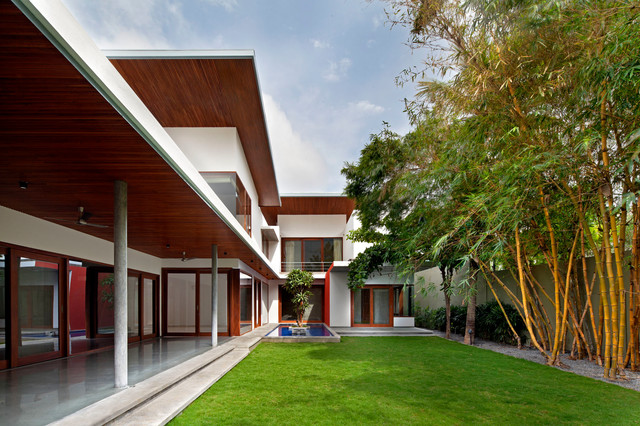 The Long House
Architects: Khosla Associates
Principal Designers: Sandeep Khosla and Amaresh Anand
Design team: Sandeep Khosla, Amaresh Anand, Raju S. and Akanksha Chhajer.
Client: Tania and Sandeep Khosla
Area: 6000 sft
Year: 2013
Civil Contractors: J.J. Constructions Pvt. Ltd.
Electrical Consultant: Services Design Consultants.
Electrical Contractor: MK Electricals
PHE Consultant: JR Consultancy.
Landscape: Garden World Pvt. Ltd.

Photography: Shamanth Patil J.
What Houzz contributors are saying:

Preeti Singh added this to How to Plant a Tree
3 December 2019
When to buy and plant a treeIt's best to plant trees when they're dormant. This occurs in autumn after their leaves have dropped and in late winter or early spring just before the leaf buds begin to swell. Planting trees during this time gives their roots time to grow before warmer weather stimulates new top growth. Of course, trees can be planted at any time of year, but extra care may be needed, such as making sure that they're adequately watered during their first summer.

Shristi Nangalia added this to How to Winter-Proof Your Home & Reduce Heating Costs
20 October 2017
9. Do not forget the gardenWalk around the perimeter of your house to check for cracks or ruptures in the masonry and structural joints. Such crevices prompt water seepage and make the home attractive to rodents or pests, specially in winters. Clean the areas, fill the gaps with water-resistant seals and finish with waterproof paint cover.To protect the plants that are not tolerant to the cold, add mulch to keep the soil warm. Potted sun-responsive plants can be shifted to an area which receives direct sunlight. Other low-tolerance plants should be placed indoors. You can shift the patio furniture to an open or semi-shaded area for some winter morning sun. Make sure the furniture is resistant to temperature falls that occur at night. However, this may not be a great idea for regions that experience snowfall and frosting.This story was last published on Houzz India in 2017.Read more:Know the Difference Between Bedspreads, Duvets, Quilts & ComfortersEffortless Ideas for Adding Seasonal Decor to Your HomeTell us: Do you love the winter season, just like I do? How have you made your home winter-ready? Share in Comments below.