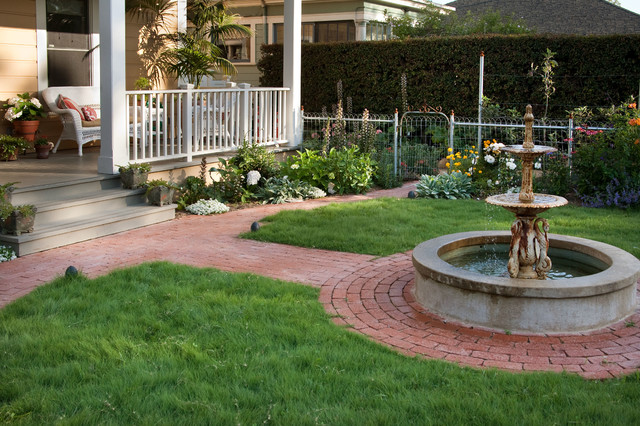 Grace Design Associates
UC Verde Buffalo grass lawn requires only a quarter of the water of "typical" sod.

*Sustainable Sites Gold Rated Project
What Houzzers are commenting on:

kscatslady added this to Vegetable Garden
18 September 2018
Fountain concept for front yard. Also idea for wire fence and gate along front wall.
Norm added this to Ground covers
16 January 2018
UC Verde buffalo grass (Bouteloua dactyloides 'UC Verde') grows in a Santa Barbara, California front yard. How to buy nontraditional grass mixes. These low-mow and low-water grasses come in several forms, and you'll select yours depending on which species mix is available on the market and right for your climate. Seed is the most common product available for nontraditional turf grass mixes. Establishing a new lawn from seed is similar to establishing a prairie or meadow. Autumn is the best time to establish seed in cold climates — the seed may lay dormant through the winter and emerge in the rainy spring. Autumn and spring are the best seasons to establish seed in frost-free climates.Plugs are available for grasses that have been selected to spread by rhizomes instead of flowering and producing seed. Plugs can be established with the help of a few simple tools and a team of friends and family. Alternatively, you can hire a landscape crew to install new plugs for your lawn. Currently, African dogtooth grass is one of the only nontraditional turf grasses available as a plug. Some of the fescues are also available as plugs.Sod is a mat or blanket of tightly growing grass similar to what you can buy at any hardware store but with a special mix of native grasses. Intact sod mats are the least common of the available products, but increasing demand will make sod more available on the market. Install this sod just like traditional sod.Before planting your nontraditional turf grass, you'll need to remove your existing lawn. To learn more about what that entails, please see how to replace a lawn with a garden.
Gardens with Similar Colours