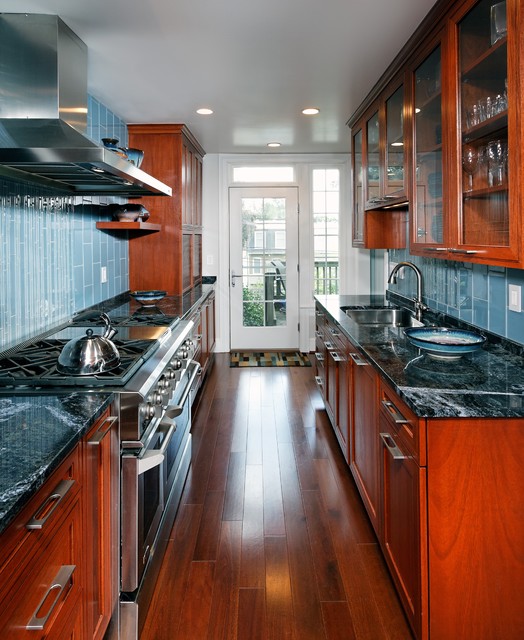 Case Design/Remodeling, Inc.
What Houzz contributors are saying:

Pranav Iyer added this to An Apartment Buyer's Guide to Getting a Good Deal
12 April 2017
Trolleys and hardwareInsist on PVC-coated or stainless-steel trolleys and soft-close drawers. Other things you will need are sufficient power outlets for your appliances, including for the mixer, microwave, toaster and a million other things that go whirr in the kitchen. If you like your non-vegetarian fare, an under-sink pulveriser is a must. And yes, it needs a waterproof power outlet where the sun don't shine. Tip: Even if you have not been given a chimney, insist on an electrical point so that you can install one if you want to do so later. Providing an electrical point won't cost them anything, but will be an expensive thing for you to get done later.

Pragati Gupta Saxena added this to A Guide to 5 Popular Kitchen Layouts
24 February 2017
1. GalleyDo you have a kitchen that is longer than it is wide? A galley kitchen takes its name from the tiny kitchens on ships and airplanes. This layout is believed to be one of the most functional and efficient designs as everything is within arm's reach. It runs between two parallel counters with sections of cabinetry facing each other. Pros: A galley kitchen maximises use of a long, narrow space and makes for efficient cooking zones. Your appliances stay organised and accessible. Since there are two parallel counters, the cook is able to move easily from one work centre to another. A galley kitchen offers lots of storage space with upper and lower cabinets at your disposal. There are no hard-to-access corner base cabinets in this arrangement.
Kitchens with Similar Colours