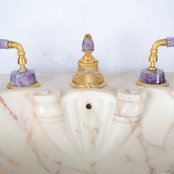 PRA Ventures Pvt Ltd (dealer for Sherle Wagner)
| | |
| --- | --- |
| | PRA Ventures Pvt Ltd (dealer for Sherle Wagner) |
Commented: Naresh Kumar Arno
Approx. price for wash basin in Burnished Gold - Rs.700,000 GST extra, kindly provide your contact details on sw@praventures,com regards, Ken
Commented: <t1>prize prize of this item</t1>
kindly provide your contact details on sw@praventures.com
Commented: price and dimension?
sir kindly provide your contact details on sw@praventures.com so a quotation can be sent to you.
Commented: seema Shailesh patel
This is a Versailles over edge basin with gold plating Rs.559680+ GST, for more products visit www.sherlewagner.com, you can write to us on sw@praventures.com or call on 022 22042277. regards, Ken
Commented: query
This is a Versailles overedge basin in Burnished Gold, price Rs.559680, GST extra. You can visit www.sherlewagner.com to know about the different fittings & fixtures. For any queries write to sw@p...