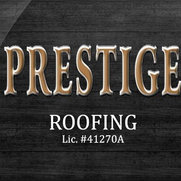 | | |
| --- | --- |
| | PRESTIGE ROOFING |
Prestige Roofing is Las Vegas' best roofing company, since 1995. With successful projects across the Las Vegas metropolitan area and with every type of roofing material imaginable, it's no wonder we're among the highest rated roofing businesses in Nevada. Officially licensed and with a sterling record, we at Prestige Roofing specialize not just in keeping the roof over your head strong and sturdy, but also in providing roof fixtures, custom roofing projects, and working with exotic materials such as copper and metal roofing. If your home lies within the Las Vegas or Henderson areas, then sign up for a free roofing estimate and get your roof checked for cracks, thermal shock, or any number of problems that arise after a cold winter. Roofing in Las Vegas is a big business, and Prestige Roofing has done business with the biggest clients! Some of our past clients have included: the residence of Siegfried and Roy, Queensridge Towers, Tivoli Village, and the UNLV Architecture Studio. Your home could be our next big project!
Services Provided
Prestige provides the best in roofing construction, repair and replacement.
1 Project for PRESTIGE ROOFING
2 Ideabooks for PRESTIGE ROOFING