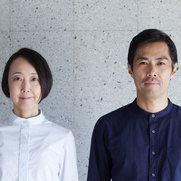 | | |
| --- | --- |
| | aoydesign/アオイデザイン |
https://www.houzz.in/pro/aoydesign/ copied to clipboard
1 Houzz Award
1 Houzz Badge
Professional Information:
一級建築士・宅地建物取引士
アオイデザインでは、対話をしながら、その場所、その住み手にふさわしい家を作りあげたいと思っています。出来上がった建物が、時を経てもその場所にふさわしく、住み手にとってはもちろんのこと、街にとっても愛着の感じられるものになっていれば、なお素晴らしいです。 夫婦で設計をおこなっていますので、男女両方の視点からお話しができます。また不動産仲介で、建築家の視点から土地やマンションなど物件探しのお手伝いもしています。 ------------------------- 青山 茂生/ Shigeo Aoyama 一級建築士 1969 石川県小松市生まれ 1993 武蔵工業大学(現 東京都市大学)工学部建築学科 卒業 1993-98 現代建築研究所 1998-03 シーラカンスK&H 2003 aoydesign 設立 隅谷 維子/ Yukiko Sumitani 一級建築士、宅地建物取引士 1973 大阪府池田市生まれ 1999 大阪大学大学院 建築工学修士課程修了 1999-01 シーラカンスK&H 2001-07 ジェネラルデザイン 2007 aoydesign 共営 portrait photo by Sohei Oya (Nacasa&Partners)
Awards
東京建築賞・第36回建築作品コンクール「奨励賞」/ 栄香料狭山工場・研究所 リジェネレーション第8回設計アイディアコンテスト「優秀賞」/ h2m デザイナーズコンパクトショップBEST100 / レイビームス原宿 デザイナーズコンパクトショップBEST100 / camata
Commented: Houzz Tour. A Tokyo apartment..
It would be possible to resemble it using a backlight. It's necessary to consider the distance between the sliding doors and the light source so that light my go around uniformly well.
Architects & Building Designers in India