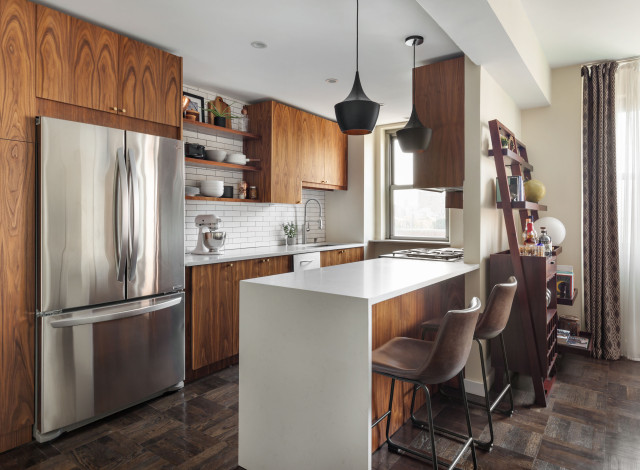 What Houzz contributors are saying:

Mitchell Parker added this to 4 American Kitchens With Wooden Cabinets
19 October 2019
4. Winning vertical walnutDesigner-builder: Jonathan Eklund of Ecostruct Location: New York CitySize: 120 square feet (11 square meters); 8 by 15 feetHomeowners' request. Open up a closed-in galley-style kitchen. "We were able to figure a way to remove and restructure a load-bearing wall to extend the kitchen and provide some island seating, helping to tie the kitchen and living room together," says designer-builder Jonathan Eklund, whose client found him by searching for local professionals on Houzz. Wood cabinets. Vertical-grain matching walnut veneer. "The owners were adamant about having grain-matched millwork throughout the kitchen," Eklund says. "I was concerned that with the existing oak parquet floors, this could lead to too much wood on-site, so I suggested walnut veneer as a contrast with vertical grain matching to add some depth. The open shelves with the white subway backsplash helped to cut the overbearance of the wood as well."Other special features. "With so much wood in the kitchen and darker-stained parquet floors, it was really important to get some neutral colours and varying materials into the kitchen," Eklund says. "Subway tiles is one of my favourite ways to add a stark pop to break up a space, so we went with a 2-by-6-inch white field tile." White quartz countertops complement the backsplash.Designer tip. "In my opinion the decision to swap some of the upper cabinets for open shelves was a game changer in this kitchen," Eklund says. "The original design of closed cabinets all the way across made me feel like the walls were still closing in a little. The tip on this front is that just because it doesn't have a door on it doesn't mean a shelf can't also provide great storage. You just need to be a little more thoughtful about what you are storing to prevent cluttering.""Uh-oh" moment. "The biggest uh-oh moment was when we removed the 'non-load-bearing' kitchen and living room partition, only to find out that in fact there was load in the wall and we had no way of properly supporting it," Eklund says. "Luckily we were able to get a beam into the existing soffit without changing the depth of the soffit too much. Additionally, the clients were flexible with how deep the island portion of the kitchen was, so we kept a little more of the existing partition in place than planned in order to conceal the structural post."Read more:What's the Best Material for Kitchen Cabinets?Fresh Design Ideas From 20 Urban Indian KitchensTell us:Which kitchen did you like the best?
What Houzzers are commenting on:
Ruth Setzer added this to 2021 Ideas
15 May 2021
Wooden Cabinets, Wooden Floors & Subway Tile Backsplash_05-15-21
Kitchens with Similar Colours