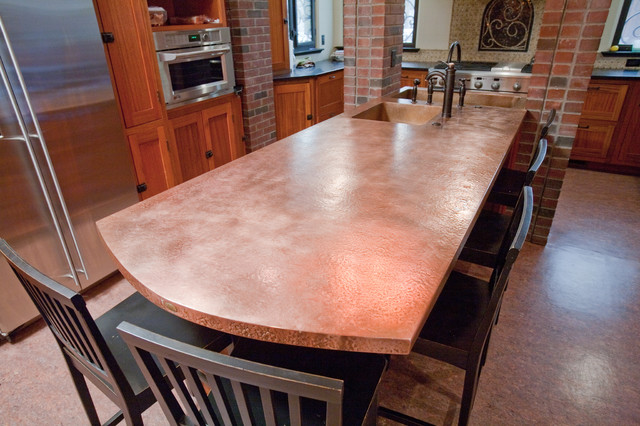 Washington Boulevard Kitchen Remodel
This spacious, yet extremely friendly and inviting home lacked a kitchen with personality and functionality for this growing family and their desire to entertain others. The goal for this renovation was to provide for new and larger appliances, maintain views to the rear yard, and provide family seating space within the kitchen.
The home's existing exterior architecture provides references reminiscent Italian villas with terra cotta clay tile roofing, half-round steel windows and ornate stonework. The interior evokes similar images through the use of warm earth tone wall colors, hardwood floors, wrought-iron railings and plastered walls.
The home's existing pallet of aged materials and their warm earth tones was reinforced with the selection of new finish materials such as: red brick, limestone veneer, linoleum flooring, African-mahogany cabinets, quartz perimeter countertops, copper sinks, exhaust hood and island counter, and oil-rubbed bronze hardware and fixtures. Because matching the exterior brick veneer was no longer a possibility, the combination of limestone veneer and copper sheet metal was selected for the new exterior; both being chosen for their warmth and timeless character. In addition, new hand-crafted wrought-iron doors and windows with energy-efficient insulated glass and ornate scrollwork were chosen in lieu of wood or clad-wood windows to replicate the home's original steel and leaded-glass windows.
With time (and some patina), this inviting kitchen addition will blur the lines between "old" and "new."
Project description written by Lee Constantine, Constantine Design Group.