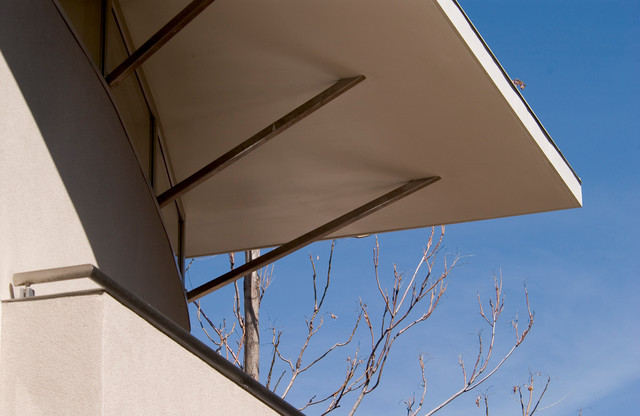 Warner/Erickson Residence
The existing 1950's ranch house was remodeled by this firm during a 4-year period commencing in 1997. Following the Phase I remodel and master bedroom loft addition, the property was sold to the present owners, a retired geologist and freelance artist. The geologist discovered the largest gas reserve in Wyoming, which he named 'Jonah'.

The new owners program included a guest bedroom suite and an office. The owners wanted the addition to express their informal lifestyle of entertaining small and large groups in a setting that would recall their worldly travels.

The new 2 story, 1,475 SF guest house frames the courtyard and contains an upper level office loft and a main level guest bedroom, sitting room and bathroom suite. All rooms open to the courtyard or rear Zen garden. The centralized fire pit / water feature defines the courtyard while creating an axial alignment with the circular skylight in the guest house loft. At the time of Jonahs' discovery, sunlight tracks through the skylight, directly into the center of the courtyard fire pit, giving the house a subliminal yet personal attachment to the present owners.

Different types and textures of stone are used throughout the guest house to respond to the owner's geological background. A rotating work-station, the courtyard 'room', a stainless steel Japanese soaking tub, the communal fire pit, and the juxtaposition of refined materials and textured stone reinforce the owner's extensive travel and communal experiences.
Exteriors with Similar Colours