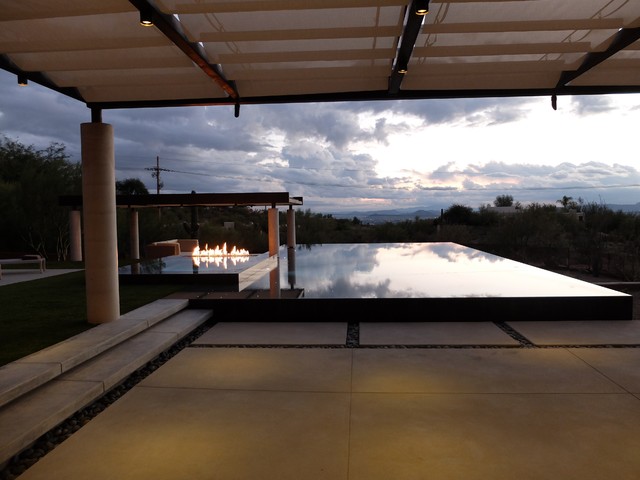 Vue de Catalina
These clients decided to make this home their Catalina Mountain homestead, after living abroad for many years. The prior yard enclosed only a small portion of their available property, and a wall obstructed their city lights view of northern Tucson. We expanded the yard outward to take advantage of the space and to also integrate the topography change into a 360 vanishing edge pool.

The home previously had log columns in keeping with a territorial motif. To bring it up to date, concrete cylindrical columns were put in their place, which allowed us to expand the shaded locations throughout the yard in an updated way, as seen by the new retractable canvas shade structures.

Constructed by Mike Rowland, you can see how well he pulled off the projects precise detailing of Bianchi's Design. Note the cantilevered concrete steps, the slot of fire in the midst of the spa, the stair treads that don't quite touch the adjacent walls, and the columns that float just above the pool water.
Swimming Pools with Similar Colours