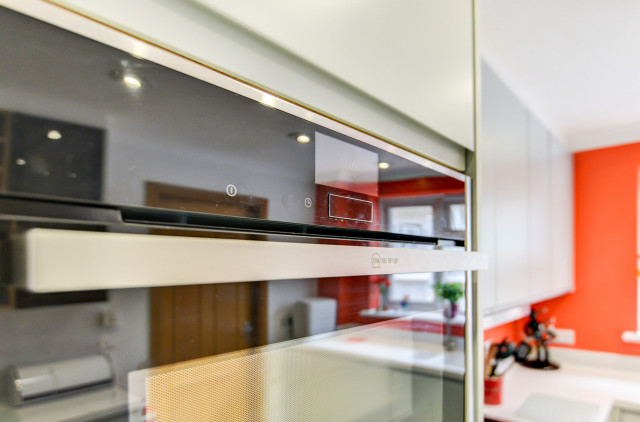 Ultramodern British Kitchen in Ferring, West Sussex
Ultramodern British Kitchen in Ferring, West Sussex

Sea Green handleless furniture from our British supplier and wonderful Corian surfaces combine in this coastal kitchen.

The Brief

This Ferring project required a kitchen rethink in terms of theme and layout. In a relatively compact space, the challenge for designer Aron was to incorporate all usual amenities whilst keeping a spacious and light feel in the room.

Corian work surfaces were a key desirable for this project, with the client also favouring a nod to the coastal setting of the property within the kitchen theme.
Design Elements

The layout of the final design makes the most of an L-shape run to maximise space, with appliances built-in and integrated to allow the theme of the kitchen to take centre-stage.

The theme itself delivers on the coastal design element required with the use of Sea Green furniture. During the design phase a handleless kitchen became the preferred choice for this client, with the design utilising the Segreto option from British supplier Mereway – also chosen because of the vast colour options.

Aron has used furniture around an American fridge freezer, whilst incorporating a nice drinks area, complete with wine bottle storage and glazed black feature door fronts.

Lighting improvements have also been made as part of the project in the form of undercabinet lighting, downlights in the ceiling and integrated lighting in the feature cupboard.
Special Inclusions

As a keen cook, appliance choices were an important part of this project for the client.

For this reason, high-performance Neff appliances have been utilised with features like Pyrolytic cleaning included in both the Slide & Hide single oven and compact oven. An intuitive Neff induction hob also features in this project.

Again, to maintain the theme appliances have been integrated where possible. A dishwasher and telescopic extractor hood are fitted behind Sea Green doors for this reason.
Project Highlight

Corian work surfaces were a key requirement for this project, with the client enjoying them in their previous kitchen.

A subtle light ash option has been chosen for this project, which has also been expertly fabricated in to a seamless 1.5 bowl sink area complete with drainer grooves.

The End Result

The end result is a wonderful kitchen design that delivers on all the key requirements of the project. Corian surfaces, high-performance appliances and a Sea Green theme tick all the boxes of this project brief.

If you have a similar home project, consult our expert designers to see how we can design your dream space.

To arrange a free design consultation visit a showroom or book an appointment now.

Kitchens with Similar Colours