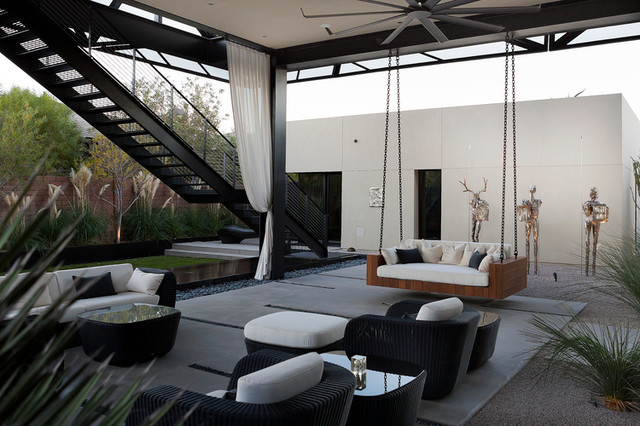 TRESARCA
Photo: Bill Timmerman + Zack Hussain
Blurring of the line between inside and out has been established throughout this home. Space is not determined by the enclosure but through the idea of space extending past perceived barriers into an expanded form of living indoors and out. Even in this harsh environment, one is able to enjoy this concept through the development of exterior courts which are designed to shade and protect. Reminiscent of the crevices found in our rock formations where one often finds an oasis of life in this environment.
DL featured product: DL custom rugs including sculpted Patagonian sheepskin, wool / silk custom graphics and champagne silk galaxy. Custom 11′ live-edge laurel slabwood bench, Trigo bronze smoked acrylic + crocodile embossed leather barstools, polished stainless steel outdoor Pantera bench, special commissioned steel sculpture, metallic leather True Love lounge chair, blackened steel + micro-slab console and fiberglass pool lounges.
Patios with Similar Colours