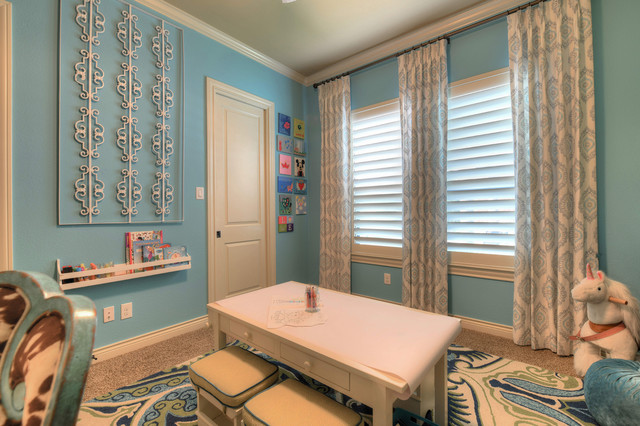 Transitional and Fun Kids Craft / Playroom
The client requested that her daughter's previous bedroom be transformed into a craft room. She wanted a space to display her daughter's artwork and a chalkboard wall. The client also wanted an area where she would be able to craft as well. While the rest of her house is traditional, the client wanted this room to be vibrant and fun.

A custom corkboard and chalkboard wall was created to display the daughter's artwork and to give her a place to draw. Centered on the corkboard is an abstract art piece in gold, blue, and silver. To add movement to the room, a large print rug with blues, greens, and cream laid the foundation. Her existing craft table was placed over the rug, in the center of the room. Custom cushions were made in a turquoise velvet with green welting. To provide extra seating, a custom velvet ottoman was placed in the corner of the room. An edgy green, silver, and cream chevron wallpaper was hung to create an accent wall. A drop leaf, driftwood console was placed on the accent wall and acts as an additional craft table. An antiqued, gold accented starburst mirror was placed on the accent wall, along with custom made floating shelves painted metallic gold. A bold cow print with distressed turquoise wood accent chair adds pop to the space. To complete this space, large print linen draperies in multiple shades of blue were hung.
Kid's Room with Similar Colours