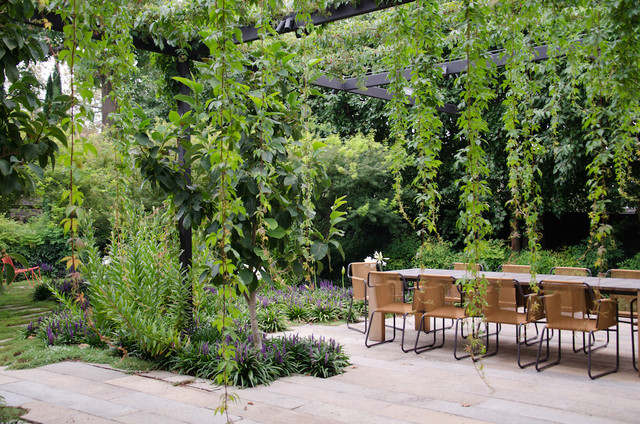 What Houzz contributors are saying:

Ketaki Godbole Randiwe added this to 6 Amazing Vines & Creepers Perfect for Indian Gardens
3 August 2018
Perhaps the easiest way to give your garden a wild, natural look is with vines climbing, attaching or twining their way over fences, walls, arbors or pergolas. Depending on how and where you plant them, they can provide you with shade and privacy, soften the look of your garden structures, reduce noise from the road, attract beautiful creatures into the garden and easily fill in spaces where other plants won't grow. Climatic zones of India are divided into three types:1. Tropical rainy climate(The west coast of India, including parts of Maharashtra, Gujarat, Karnataka, Tamil Nadu, West Bengal, and the Andaman-Nicobar and Lakshadweep Islands)2. Dry climatea. Tropical semi-arid(North, central and south Maharashtra)b. Sub-tropical arid(Rajasthan and Gujarat)c. Sub-tropical semi-arid(Punjab, Haryana, Uttar Pradesh, western Madhya Pradesh, Delhi)3. Sub-tropical humid climatea. Sub-tropical humid(Foothills of the Himalayas, Bihar, northern West Bengal, Assam, Orissa)b. Mountain/Alpine(Mid-Himalayan mountain range)All the plants mentioned in this story are acclimatised to our Indian climatic conditions and should be easy to grow in your gardens with the right care. Opting for these varieties is one of the best decisions you can make to fill your garden with stunning flower forms and prolific blooms.Find landscape architects and contractors near you


Shristi Nangalia added this to How to Live With a Money Plant
4 June 2017
Take it outdoorsMoney plants don't react well to direct sunlight. Hence, they are not used to mask facades and exterior garden walls. If you still wish to adorn your outdoors with this plant, pick a partly or fully shaded zone. A porch or pergola works best.Tip: If the leaves turn brown, the plant is short of water. Start watering it sufficiently or transfer the plant to a more shady area.
What Houzzers are commenting on:
Howard Davis added this to My Project
5 October 2021
These plants are being used very deliberately for spatial definition. I like the idea but it may be a little much--not sure it really takes all that

Derek Kums added this to Decking
19 September 2021
Like the use of vertical greenery here.
Patios with Similar Colours