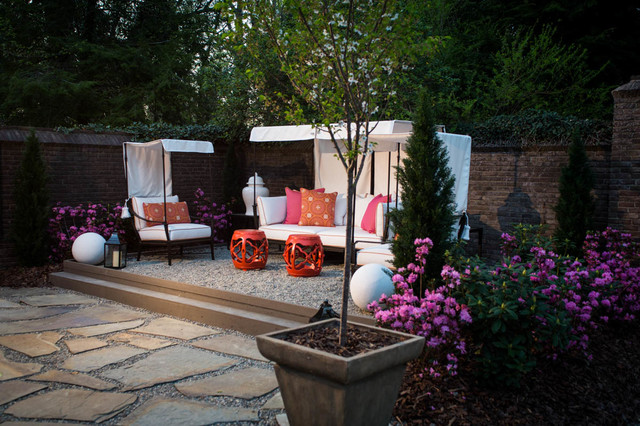 The Adamsleigh Estate | 2013 Showhouse in Greensboro, NC
"Greensboro's Grandest House" was recently selected as the 2013 ShowHouse presented by the Junior League of Greensboro and national media sponsor Traditional Home. Among the local and national design talent featured in this special fundraising event was design duo Patti Allen and Stephanie James of Furnitureland South, who transformed the estate's patio into a classic, colorful and cozy space.

Built in the early 1920s, the Adamsleigh estate is more than 15,000 square feet and covers 13.5 acres that include pools, a lake, tennis courts, a stone gazebo and a five-car garage. The 30×60 patio presented a special design challenge – the space was in disrepair and sat unevenly on a downward slope. Rising to the challenge, Patti and Stephanie partnered with Outer Space Landscapes to change the elevation of the patio in order to draw attention to the focal point and inspiration of the project: a beautiful canopy sofa by Century Furniture.

The addition of 6 tons of landscaping material included Pennsylvania blue stone, pebbles, sand, cherry trees, azaleas and geraniums all blooming in the colors of the latest Sunbrella fabrics featured in the outdoor furnishings: crisp, sandy white, fuchsia and tangerine. Patti and Stephanie wanted to showcase clean and classic outdoor style with an edge of color and unexpected elements. Playful ottomans by Baker float in the space for multiple functions, adding an extra pop of color to the sophisticated setting which includes a dining table by Oscar de la Renta, organic spot tables from Phillips Collection, and daybeds and seating from Century Furniture.

Combining their passion for interior spaces with signature designs, Allen and James Designs gave this outdoor space the comfort, color and style it deserved.

Patti and Stephanie, co-founders of Allen and James Designs, are committed to inspire and influence unique spaces for home, work, play and relaxation. With over 25 years of experience and a dedication to client relationships, their infusion of international inspiration with style, color, texture and vision make Patti and Stephanie a creative duo capable of exceeding the expectations of any client's design project. By forming over 400 connections with key manufactures such as Henredon, Century, Lillian August, Dovetail, Maitland Smith and Huntington House, Allen and James Designs can provide a broad range of options that virtually meet any need a client has to create their dream home.
What Houzzers are commenting on:
Patios with Similar Colours