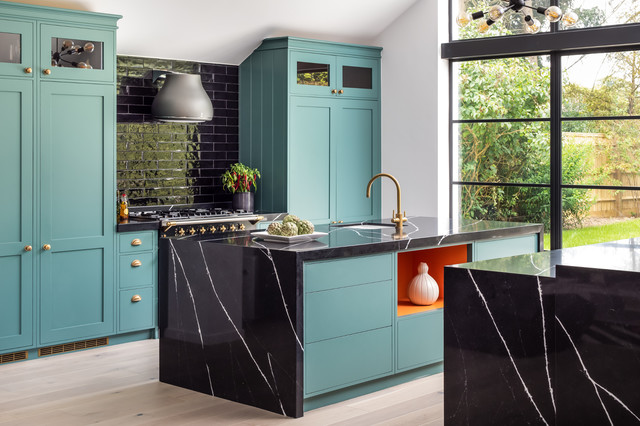 Splash Of Colour
This vibrant and striking kitchen design has more than its fair share of wow-factor, not least because of the two large islands which form the centre piece to the design.

Each island has been topped with 60mm thick quartz worktops, complete with waterfall edges.

As well as looking simply amazing, the double islands also serve to define the two separate zones of this otherwise open-plan living space.

One island has been given over to food preparation, with the sink positioned in close proximity to the range cooker, the bespoke larder cupboard and the integrated Miele appliances which include two dishwashers, a fridge and a freezer. This carefully considered layout helps to create an efficient work area when cooking.

On the other side of the room the second island serves more as a space for dining, relaxing or perhaps even entertaining with the slightly raised breakfast bar area, the integrated Miele wine cooler and room for four bar stools.

The clients own 'Let's Stay Home' light installation tells us all we need to know. When you have a kitchen as stunning as this, there really is nowhere else you need to go.
Kitchens with Similar Colours