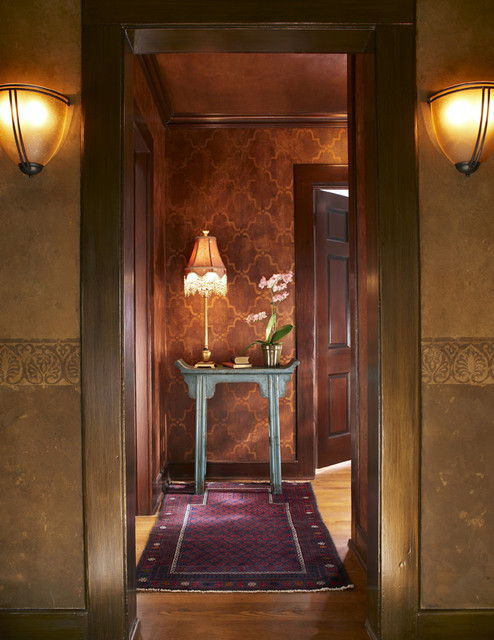 Small eclectic rooms
Most of the rooms are from the same project- a 1940's house that needed to become a home. We started with the kitchen-re-surfaced the countertops and backsplash with overlay products and Modellos, re-finished the cabinetry, sandstone wall finish, and re-surfaced the ceramic tile flooring! Then, we moved to the small dining area-did a wood striation over the lower wainscot area and pumpkin Marmorino on the upper walls. The ceiling has over 20 Modello tiles in metallic plaster over Veneziano plaster. All woodwork-originally white-was given a wood grain finish.
The den has an aged 2 tone plaster divided by a Modello border, ceiling in Lusterstone, all wood work in a grained finish, and the door with a hammered metal finish w/ 400 tacks. the hall has a cracked plaster with a copper stenciled Moroccan pattern. The front porch was over-layed with a Modello carpet pattern. The study/ bedroom has an aged gold finish and a turn-of-century antique with aged metallic finish. The mirror is pattered with a Virre Eglomise technique.The sitting are has a cracked sandstone finish, Modello pattern on the ceiling, red cracked finish on the bookcase, and relief pattern to display the Tibetan baby carrier. The Victorian study has a large Modello rug.
Corridors with Similar Colours