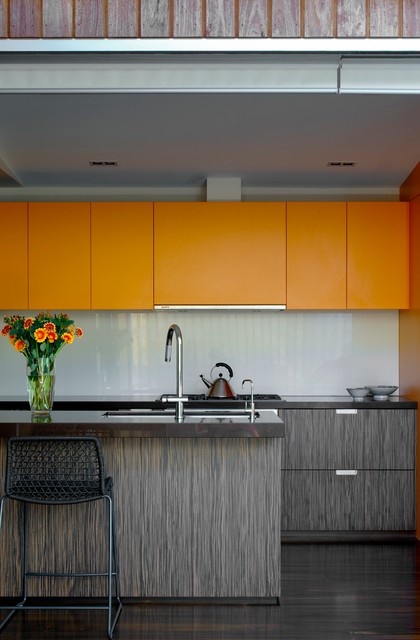 What Houzz contributors are saying:

Pooja Khanna Tyagi added this to Acrylic vs Laminate: Which Finish is Best for Kitchen Cabinets?
15 May 2019
Laminate finishLaminate-finish cabinets are used for both conventional (carpentered) as well as modular kitchen cabinets. Laminate is made up of layers of paper and plastic resin sheets pressed together. They are categorised as high-pressure laminates, used on plywood, and low-pressure laminates that are used on MDF or particle board.How to Measure Your Kitchen Cabinets

Pooja Khanna Tyagi added this to MDF vs Plywood: Which is Better?
25 April 2018
MDFMDF is manufactured by combining sawdust and chemical binders under high heat and pressure.Applications:MDF is ideal for fabricating mouldings, ornate panels, shelves (but not heavy-duty shelves). MDF jali designs look great too, especially in ceilings. MDF plywood is highly recommended for decorative pieces or panels that just need to be finished with paint.Pros:MDF is a cheap, budget-friendly material.The material has no voids, which makes MDF a very dense and strong material, but on the downside it becomes very heavy.MDF board is composed of tiny wood grains so it can be easily cut, drilled, machined and filed to achieve a good finish.MDF is recommended for creating elaborate designs because the small wood fibres and smooth edges allow the CNC (computerised cutting machine) router to move easily.Another plus is that MDF is made from wood waste, which makes it sustainable and environmentally-friendly.

The Stated Home added this to Which Wood is Best for Furniture?
30 August 2017
Pros and cons of MDFThere are more cons than pros when you're talking about MDF furniture. Pieces made from it are less expensive than those made of solid wood or plywood, which makes them budget-friendly. However, MDF requires a lot of chemicals to make and is the highest-formaldehyde-emitting wood product out there. Other downsides: It can easily be damaged by water, it's difficult to repair, it doesn't hold screws very well and it's heavy.
What Houzzers are commenting on:
Kitchens with Similar Colours