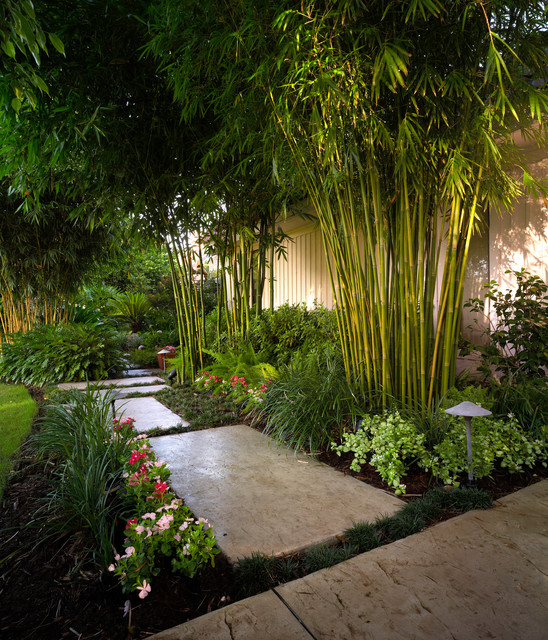 Residential Landscape Projects
the bamboo is a clumping variety called Bambusa eutuldoides viridi-vittata , Asian lemon bamboo. This variety is a clumper and you do not need to contain it, however, do allow an 8'by 10' area for its ultimate growth. Bamboo does require constant maintenance and you will need to do some research for the specific variety you choose. Once planted, it will become a beautiful focal point and add a stunning tropical accent. Photo Credit: Sherwood Cox
What Houzz contributors are saying:

Ketaki Godbole Randiwe added this to Add Volume to Your Garden With These Fast-Growing, Hassle-Free Plants
5 September 2017
Golden bambooThe golden bamboo is a perennial herb plant that belongs to the grass family (Poeceae), introduced in India and well-adapted to our conditions. It is classified as a woody, evergreen, perennial grass. With its bright-green foliage and golden-yellow stalks, the golden bamboo is in great demand for creating visual privacy while at the same time infusing freshness into a space.Botanical name: Phyllostachys aureaWater requirement: Medium moistureSoil: Well-drained soil Light requirement: Partial shade opportunities with plenty of direct sunlight are good growing conditions for the plant to flourish.Mature size: 6-9 metres (20-30 feet) tallNative to: Southwest Asia, East Africa, tropical Africa and the Middle East.
What Houzzers are commenting on:
Gardens with Similar Colours