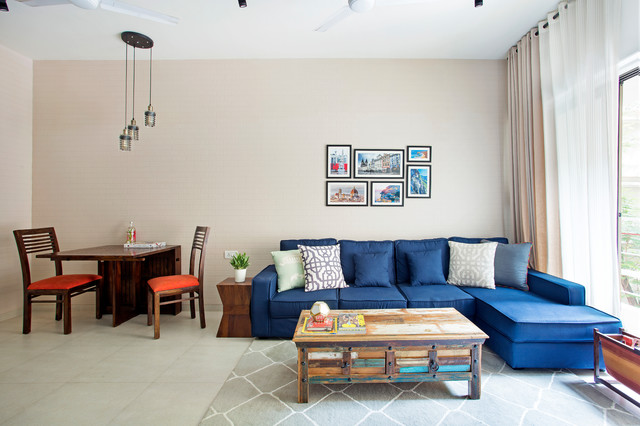 What Houzz contributors are saying:

Vaishnavi Nayel Talawadekar added this to 12 Modern Living Room Designs Perfect for Small Spaces
27 October 2018
2. Moods of MykonosLight tones are a clever way of opening up a small room to more light. Keep your walls muted and add a piece of statement furniture to create some visual stimulation.Greek island vibes scintillate in this neutral Mumbai living room, with a royal-blue sofa taking centre stage in the ivory cocoon. Save for a cluster of framed pictures, the room features few wall accents, leaving plenty of wall space available to reflect and amplify daylight. Note how the white-brick wallpaper on the left provides textural variety to the surrounding plain walls. The L-shaped sofa aligns to the wall, maximising every square inch of this very small living room interior. A fold-out dining table to the left is flanked by lightweight dining chairs that can be easily pulled in as extra seating in the living area. The room enjoys airiness and openness thanks to its generous channels of negative space.Wondering how to partition the living and dining areas?

Pooja Khanna Tyagi added this to How to Prevent and Treat Dampness in Your Home
8 October 2018
How to control dampness that is caused by condensation?Condensation occurs when moist air comes into contact with the colder surfaces of the home. To prevent condensation and humidity:It is essential to cross-ventilate and circulate fresh air within your home.Install exhaust fans in the bathrooms and kitchen so as to remove extra moisture from these areas.Do not dry your clothes indoors.When cooking, keep pans covered with lids so as to prevent condensation of steam on the kitchen walls.Avoid putting too many things in cupboards, wardrobes or other cabinets – leave enough space to allow air circulation.

Vaishnavi Nayel Talawadekar added this to Neutral vs. Colour: Which Is Better for Your Walls?
27 September 2018
Neutral wallsIf you prefer a pared-back, peaceful space, perhaps you're meant for neutrals. Craft your wall palette in tones like ivory, blush pink, pale gold or biscuit. Perhaps add a highlight – pick a piece of furniture in a bolder colour to add a pop of cheer to your restrained look.