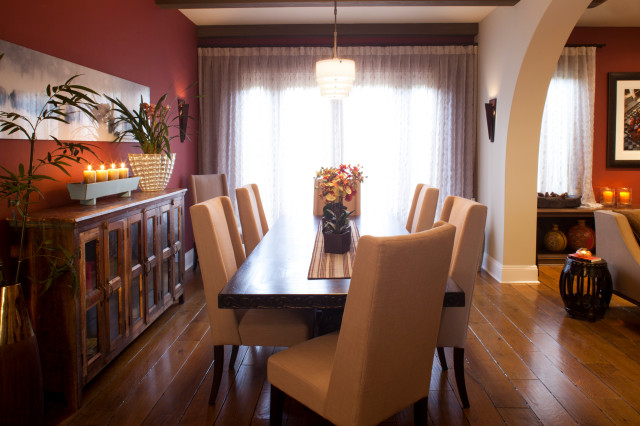 Prado De Los Gansos Residence
The wood flooring in this dining room was one of the existing features that Jule Lucero, Interior Designer chose to retain. She sourced a local wood flooring supplier to collaborate with to create more of this material to be installed, for a unified design and atmosphere through most of the primary rooms.
The dining table is custom made. Jule Lucero, Interior Designer, found a Mexican import shop locally, selecting various components, custom stain & finish. The top is a heavy mesquite wood, with a carved edge, creating a tactile and grounding mood to the dining experience.
The dining chairs are from West Elm, the buffet cabinet is sourced from a Thrift Shop, The lighting is Hubberton Forge Iron, The artwork is a photograph from the homeowners collection.
Jule Lucero, Interior Designer, custom designed the sofa/settee in the adjacent sitting room with an arched recess in the back for dual use in both rooms.
Dining Rooms with Similar Colours