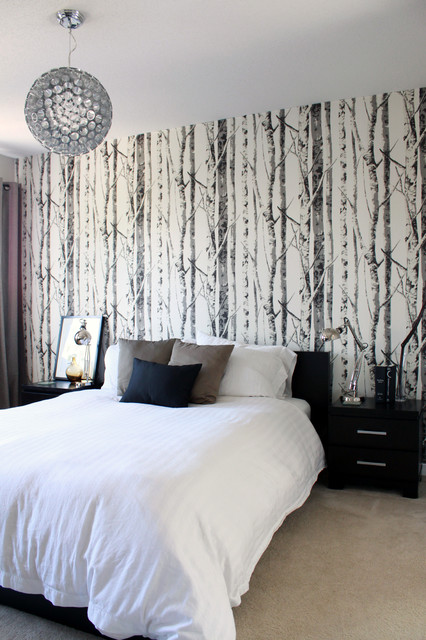 Personal Home Tour
We are a young newly wed couple who decided to ask for cash gifts at our wedding so we could decorate our new digs. We received the keys the morning after becoming Mr & Mrs Leclair, and to this day we have yet to take a honeymoon. Both of us had a brewing passion for modern interior decorating that needed to be fulfilled. Our previous 1 bedroom apartment was a great warm up but the real challenge was ahead. We received generous gifts to get us started but after the wedding, closing costs and a few unexpected costs we were left with a fairly conservative budget to work with.

First up was painting. None of the existing loud colours in the house were really to our liking. So started the giant task of painting every single wall in the house. Oh, and throw the garage and front entrance doors in there also. Thankfully Melissa works at a paint store so we were able to receive a few free cans and some really good deals on others. Quick shout out to Benjamin Moore and Pittsburgh Paints reps. After accomplishing this feat (with the help of family & friends) we decided a few walls needed some punch. A little wallpaper you say? Why not.

Next up was lighting. Most of the fixtures were out of date or not giving us the desired effects. With the help of our handy uncle Rob, we changed every single fixture in the house and out. A few have actually been changed twice. Always a learning curb, right? We splurged on a few pendants from specialized shops but most have been big box store purchases to keep us on budget. Don't worry, when we strike it rich we'll have Moooi pendants galore.

After the hard (wasn't that bad) labor came time to pick furniture pieces to fill out the house. We had ordered most of the big ticket items before the move but we still needed to find the filler pieces. Had a great time driving around town and meeting local shop owners. After most of the furniture shopping was complete we had next to nothing left over for art and a lot of empty walls needed some love. Most of the art in the house are pictures we took ourselves, had printed locally and mounted in Ikea frames. We also headed down to the local art supply store and bought a few canvases on sale. Using left over house paint we created some large bold abstract pieces.

A year has now passed since we first got the keys and we're, mostly done. Being home owners now, we also realized that we'll never actually be done. There's always something to improve upon. Melissa's office hung in the balance of our undecided minds but after a recent retro chair purchase we've been re-inspired. That room is coming along nicely and we should have pictures up shortly. Most of what we've done are cosmetic changes. We still plan on upgrading the kitchen, upstairs bath and replacing the old carpets for some swanky hardwood floors. All in due time.


Bedrooms with Similar Colours