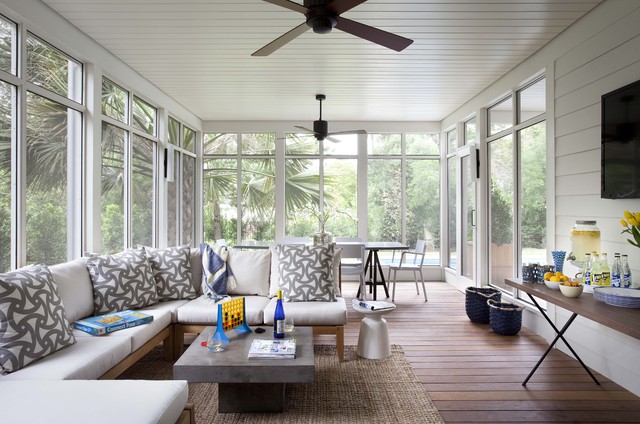 Pemberton Addition/Renovation
Screened porch is 14'x20'. photos by Ryann Ford
What Houzz contributors are saying:

Pooja Khanna Tyagi added this to 5 Reasons to Say Yes to PVC Wall & Ceiling Panels
21 September 2019
5. Budget friendlyPVC wall and ceiling panels are affordable, budget friendly and are recyclable.The best part about PVC panels is that once installed, the wall or ceiling is ready to use and does not require to be finished with paint or varnish.PVC panels are fixed with a tongue-and-groove system which ensures a fast and easy installation. Hence, a single panel can get replaced if it gets damaged.Read more:What Are the Pros & Cons of PVC Ceiling Panels?Why Are PVC Doors Best for Bathrooms?Tell us:Have you used PVC wall or ceiling panels in your home? What is your experience about using it? Share in Comments below.

Pooja Khanna Tyagi added this to What Are the Pros & Cons of PVC Ceiling Panels?
20 August 2018
Con: Not resistant to heatSince the PVC ceiling panels are made of plastic, they may get damaged when subjected to heat. Hence, avoid using heat-emitting bulbs for any ceiling-mounted lights and only go for energy-efficient LED lights.Con: PVC might release toxic gasesChlorine is used in the manufacture of PVC materials; some traces of the toxic chlorine gas might be released into the air over a period. Additionally, PVC is extremely toxic when burnt, so don't use PVC ceiling panels in areas, such as kitchens.Read more:Which False Ceiling Material is Better: Gypsum or POP?Tell us: We want to see some PVC ceiling panel designs? Show us. Share in Comments below.
What Houzzers are commenting on:
Patios with Similar Colours