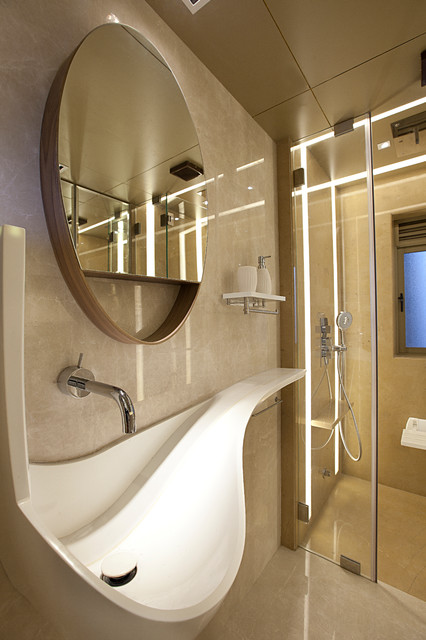 What Houzz contributors are saying:

Rashmi Haralalka added this to The Ultimate Guide to Types of Bathroom Sinks
12 March 2018
4. Wall-mounted sinkWall-mounted basins hang from the wall and make sense for bathrooms that have a limited square footage. The plumbing is usually exposed but can be concealed in the wall, too. This gorgeous white sink adds character to the bathroom with its sleek and modern design. Though the sink is curvy and elongated, leaving the floor space clear makes the bathroom seem roomier.Browse through more sink designs on Houzz

Aditi Sharma Maheshwari added this to How to Speed-Clean Your Bathroom in 30 Minutes or Less
9 January 2018
Third, the sinkBefore tackling the sink, first pour baking soda or vinegar down the drain and pour plenty of hot water to clean out the drainage pipe. You can get rid of hard water stains around your faucet by wrapping it with a vinegar-soaked paper towel. Next, use disinfectant wipes or microfibre cloths to scrub the faucet, bowl, under-bowl and surrounding area – not only will this help get things sparkling clean, it'll also get rid of any lingering bacteria. It's 5 minutes at the max for this task.

Krita Raut added this to 13 Gorgeous Washbasins Too Hard to Resist
20 April 2017
8. Curvy contoursHow stylish is this basin? The wall-hung basin starts as a vertical slab that leads to a layered curve and climbs up to form a slim slab. This unique design makes it a ceramic sculpture.
Bathrooms with Similar Colours