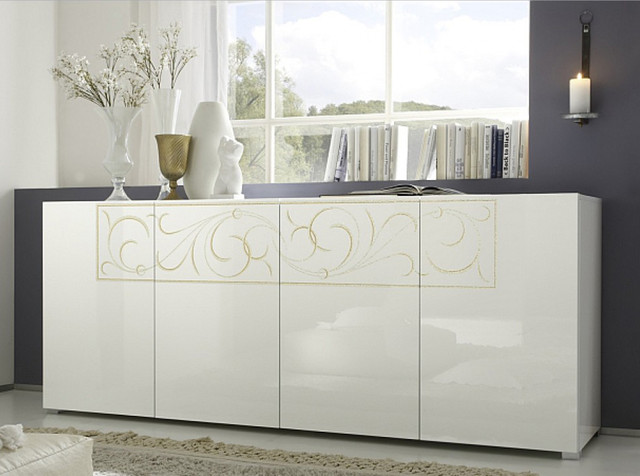 Padua Modern Sideboard by LC Mobili Italy - $739.00
Modern Italian Sideboard Padua by LC Mobili. Padua is a new living and dining room furniture collection by LC Mobili. The line significantly stands out from the others with its beautiful and noble looking serigraphy on high gloss white lacquer. The Padua buffet features four doors, providing lots of hidden storage space. The interior of the sideboard, behind each pair of doors, is organized with wooden shelf, making the sideboard even more spacious and functional. Besides the Sideboard, the Padua furniture collection also includes: TV stand (two versions), Glass Vitrine, Standing/Hanging Unit and Wall Shelf. All the units can be purchased separately, but, of course, will have even better look, when placed together as a composition.

*All pieces come without Lights. LED RGB Lights are optional and can be purchased separately.

MATERIAL/CONSTRUCTION:
E1-Class ecological panels, which are produced exclusively trough a wood recycling production process
The lacquered structures and fronts are made of REAL POLISH SCRATCH PROOF LACQUERING, which is non toxic and non allergic products
The starting price is for the Padua Sideboard.

Dimensions:
Sideboard: W82.7" x D20" x H33.5"
Glass Vitrine: W47" x D20" x H56.3"
Standing/Hanging Unit: W23.6" x D14.2" x H56.7"
TV Stand (A-Version): W74.8" x D20" x H19"
TV Stand (B-Version): W78.7" x D20" x H20" (glass shelf load capacity - 65 lbs)
Wall Shelf: W62.2" x D7" x H4"
Dining Rooms with Similar Colours