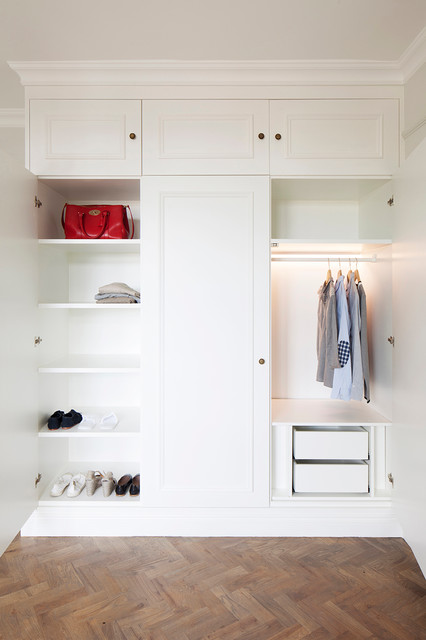 Oakhill Court
Custom made in-built wardrobes with decorative mouldings
What Houzz contributors are saying:

Vaishnavi Nayel Talawadekar added this to 11 Foolproof Ways to Organise Your Wardrobe
3 January 2018
1. Dump the junkAlways start with the basics and work your way up. In this case, that would mean cleaning out your wardrobe to assess what you really need to put back. In all likelihood, you'll have clothes that you may have outgrown. It's a good idea to donate these to make more space for items you already have or will acquire in the future. Hard as it is, downsizing your wardrobe is a necessary step.

Tailorly, Professional Home Organizing added this to Lessons From Paris: Biggest Take-Away From a 400-Sq-Ft Home
20 October 2017
9. Additional storage spaceOur flat had one medium-size wardrobe in the bedroom and one storage unit in the living room. I would have to seriously downsize my belongings to fit into that limited space. Though I'm confident I would be able to part with most of my everyday items, the one area that might be difficult for my husband and me is sports gear. We might need to store our windsurfing equipment, ski gear and bikes outside the flat. Many of us have hobbies that require a significant amount of storage space. Before you decide on a place, you may want to find out if the building has storage to house large items.Wondering how to organise your wardrobe perfectly?
What Houzzers are commenting on:
Wardrobes with Similar Colours