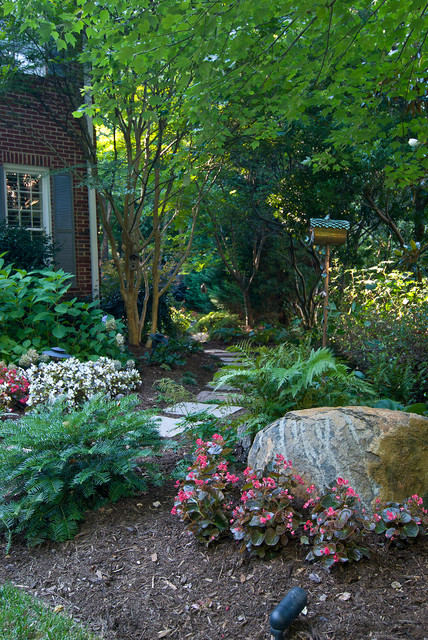 What Houzz contributors are saying:

Ketaki Godbole Randiwe added this to 8 Best Shade-Loving Plants for Gardens That Get Less Sunshine
27 January 2018
Picture thisArmed with this new knowledge, the plight of shade gardeners is no longer the same. We can look with satisfaction at our beautiful shady garden, and, with the proper care, even make it an object of envy for those gardeners who have full sun.Read more:6 Mistakes to Avoid in Your Balcony GardenA Beginner's Guide to a Beautiful Butterfly GardenTell us:If you enjoyed this story, like it, bookmark it and share your thoughts in Comments below. Join the conversation!
What Houzzers are commenting on:
Susan Holmes added this to landscape
26 May 2021
An average distance is 36 inches from the center of one stone to the center of the next stone, Ayers says. The gaps between stones should usually be no more than 4 inches. The actual distance may differ depending on who the path is for: A tall, athletic person, for example, will likely have a different stride length than someone more petite.

Irene added this to Garden & Landscape
31 May 2020
A meandering garden path, however, can be much narrower, as the intention is for guests to follow it to discover what lies ahead. "If you want someone to linger," says Ayers, "curve the path around focal points, like a tree, boulder or berm of land. The most engaging paths curve around points of interest rather than arbitrarily twist and turn."
Kevin added this to Janflone Landscape
15 March 2020
I like that it doesn't look too precise but is still beautiful. Ignore the boulder
Gardens with Similar Colours