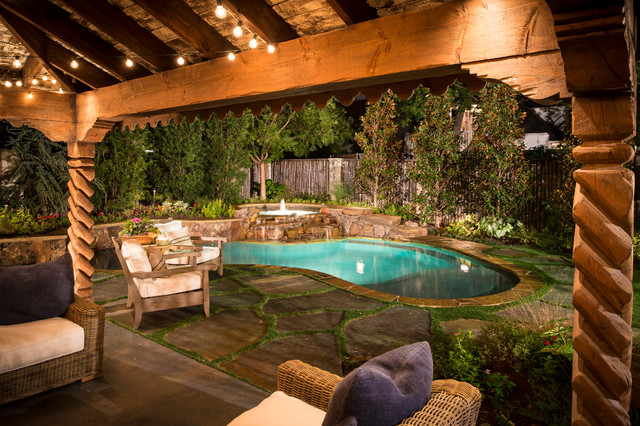 Natural Private Residence
The somewhat modest size of this beautiful back garden does not keep it from fulfilling numerous duties for this active family. Closest to the house itself are a screened sitting porch and a large outdoor dining area. One passes through antique wrought-iron gates to transition from the upper patios to the lawn area, separating the house from the pool. Slabs of Pennsylvania flagstone create a walkway through the lawn and around the swimming pool. Synthetic turf was selected for this project, in order to minimize maintenance issues and to ensure perfect grass at all times. The covered, open-air pavilion directly adjacent the pool is constructed with hand-carved posts and beams. The concrete floor of the pavilion is stained to coordinate with the Pennsylvania flagstone decks. Housing the outdoor kitchen and bar area, as well as a TV sitting area, this poolside pavilion has become the favorite hang-out for the client's teenagers and their friends.

Although our client wanted a curved line, natural pool, they wanted a bit of a modernized version, and something a bit more refined. One way we achieved this was by using long, sweeping curves around the perimeter of the pool, with hand-cut, and slightly chiseled, Oklahoma flagstone coping. Next, rather than using the typical boulders for the retaining wall, we set Oklahoma stone in an irregular flagstone pattern with butt-joints so that no mortar shows. The walls are capped with the same Oklahoma flagstone as is used on the coping. The spa is tucked in the back corner of the garden, and raised 20" above the pool. The spillway from the spa is created using a combination of long slab boulders along with smaller boulders, to create a gentle, natural waterfall to the pool. Further refinement is shown in neatly trimmed appearance of the synthetic turf between the large slabs of Pennsylvania stone that create the pool deck.