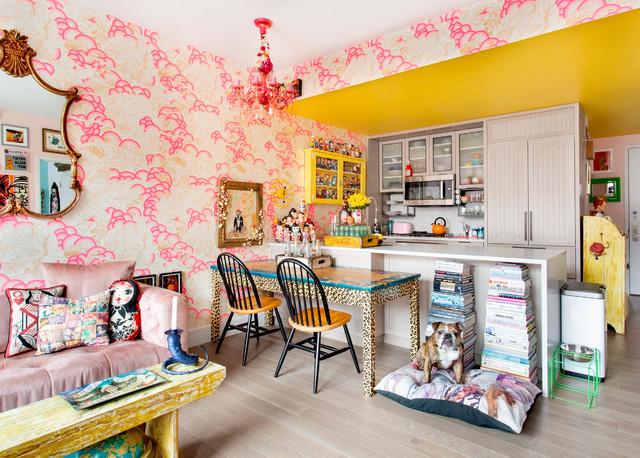 My Houzz: Patterns and Collections at Play in an NYC Apartment
Rikki Snyder © 2019 Houzz
What Houzz contributors are saying:

Rikki Snyder added this to Houzz Tour: This 775-Sq-Ft Flat Goes All Out On Quirk & Colour
22 March 2019
Photos by Rikki SnyderApartment at a GlanceWho lives here: Jeanie Engelbach of apartmentjeanie and her English bulldog, Tater TotLocation: New York CitySize: 775 square feet (72 square metres); one bedroom, one bathroom"Upon seeing the apartment, I acknowledged that I would have to give up the majority of my furniture, so I made paper templates of all the furniture that I hoped I would be able to bring with me," Engelbach says. "I had to make some hard decisions about what would serve the maximum purpose over purely a decorative one." As she mapped out what would fit in her new open-plan space, she wasn't sure if it would accommodate her beloved dining table painted in leopard and floral patterns by a friend. "Initially I had planned to purchase two counter stools, but I had unpacked the books and stacked them temporarily in the space where the stools would be," Engelbach says. "I'm pretty satisfied with the current setup, and it also created a little space for Tater Tot's bed — he likes to be in the centre of everything."I think the height difference between the kitchen counter and table creates a sense of separation and a distinct space," she adds.
Kitchens with Similar Colours