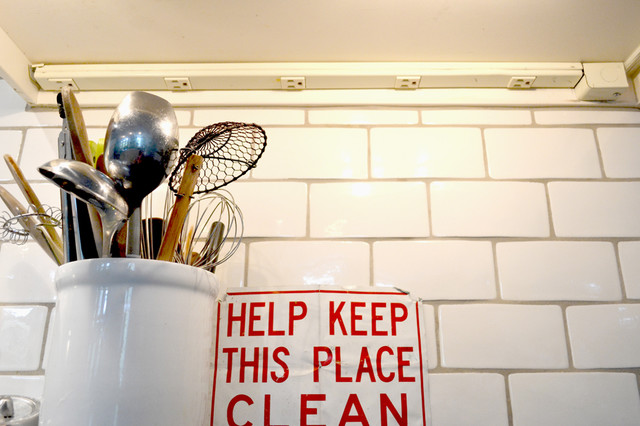 My Houzz: An Architect's 1901 Home in Pennsylvania
Colleen Steixner © 2012 Houzz
What Houzz contributors are saying:

Pangaea Interior Design, Portland, OR added this to How to Have a Home That is Easy to Clean
20 December 2017
15. Consider reducing the total size of your homeIf you're planning to build or buy a new home, really think about how much space you need. If you maximise the functionality of your home, you may not need nearly as much space as you think. It's just simple logistics that the larger your home is, the longer it takes to clean. If you're not moving to a new home, then just reducing the amount of stuff you have in your home will also help. Wherever it makes sense, declutter, purge and divest yourself of things that take up your time and energy to care for.Bonus tip: This photo shows my favourite tip to reduce cleanup time. I love this sign reminding everyone to pitch in and help. Read more:A Thorough, Room-by-Room Cleaning GuideTell us:Do you have additional tips on designing a home that is a snap to clean? Tell us about them in the Comments below.

Shristi Nangalia added this to Revealed: Simple Steps to Keep Your Home Pest Free
25 January 2017
Extra care in the kitchenThe kitchen is the pests' favourite place to live and grow. At night, clear all food items from the table or keep them tightly covered. Do not leave used dishes in the sink overnight. Make sure the dustbin is not left open at any time. Use organic cleaners and detergents to clean the kitchen countertops, floor and cabinetry.
What Houzzers are commenting on:
Homes with Similar Colours