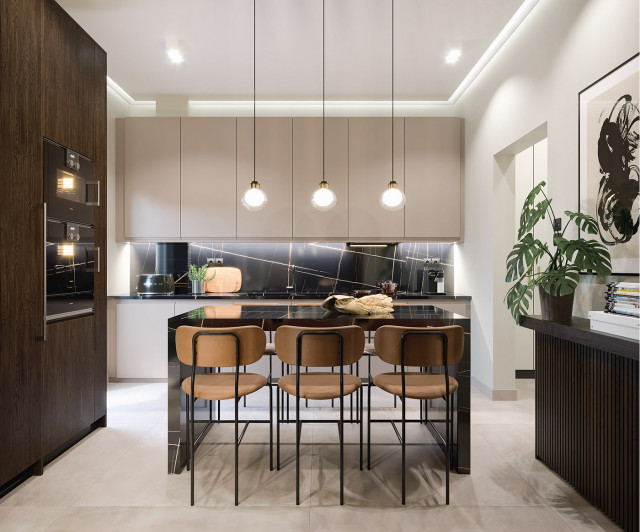 Mr & Mrs Maheshwari's, Gurgaon
The kitchen has a big centerpiece island dressed up with saharanoir marble which continues on the counter top and the backsplash of the kitchen. we have a combination of wood and beige lacquer for the cabinates and tobac leather stools that compliment the veins of the marble.
What Houzz contributors are saying:

Preeti Singh added this to The Big Guide: Know the 3 Zones of Kitchen Storage
5 January 2021
The kitchen deserves special attention because it is home to a long list of items, some of which cycle in and out of the house. Requirements vary widely, so kitchen organisation principles, combined with your household type, are the common threads.Consider grouping your storage around three primary activity areas: the refrigerator, the sink and the range.

Preeti Singh added this to 11 Places to Save Money When Renovating Your Home
23 July 2020
4. Drawers and cabinetsKitchen drawers provide great storage; not only do they keep your kitchenware well organised, but they allow you to see the contents at a glance. However, drawers cost considerably more than basic kitchen cabinets. While cabinet doors have a simple hinge, drawers require extension runners so you can pull them out, and these come in various sizes and qualities. The more drawers, the higher the cost of your kitchen. If you still can't go past the idea of drawers but you're on a budget, consider housing inexpensive pull-out basket drawers behind cabinet doors.Tip: If you'll be installing a lot of drawers, consider the type of extension runner carefully. Styles and prices vary; some have soft closers and full extension, while others only extend half way and won't close on their own. The runner you choose will impact the final cost of the drawer.
Kitchens with Similar Colours