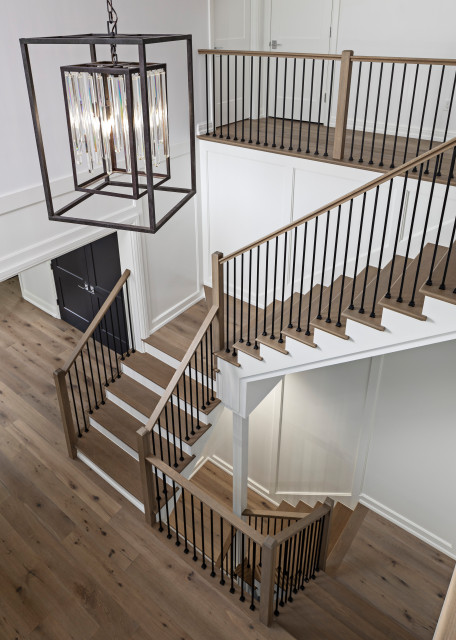 Modern Living in Downtown Birmingham
A staircase is so much more than circulation. It provides a space to create dramatic interior architecture, a place for design to carve into, where a staircase can either embrace or stand as its own design piece. In this custom stair and railing design, completed in January 2020, we wanted a grand statement for the two-story foyer. With walls wrapped in a modern wainscoting, the staircase is a sleek combination of black metal balusters and honey stained millwork. Open stair treads of white oak were custom stained to match the engineered wide plank floors. Each riser painted white, to offset and highlight the ascent to a U-shaped loft and hallway above. The black interior doors and white painted walls enhance the subtle color of the wood, and the oversized black metal chandelier lends a classic and modern feel.

The staircase is created with several "zones": from the second story, a panoramic view is offered from the second story loft and surrounding hallway. The full height of the home is revealed and the detail of our black metal pendant can be admired in close view. At the main level, our staircase lands facing the dining room entrance, and is flanked by wall sconces set within the wainscoting. It is a formal landing spot with views to the front entrance as well as the backyard patio and pool. And in the lower level, the open stair system creates continuity and elegance as the staircase ends at the custom home bar and wine storage. The view back up from the bottom reveals a comprehensive open system to delight its family, both young and old!


Staircases with Similar Colours