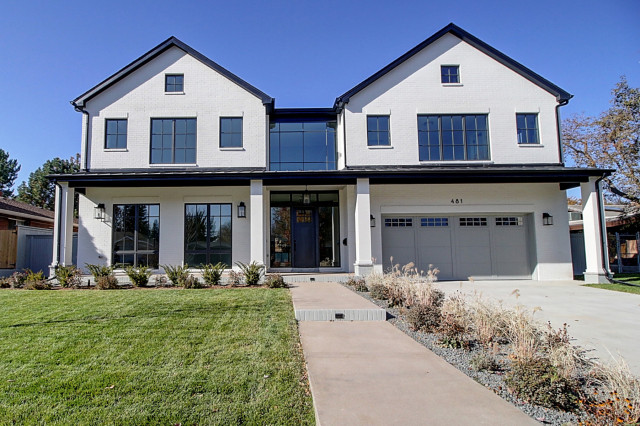 Modern Farmhouse
Inspired by the iconic American farmhouse, this transitional home blends a modern sense of space and living with traditional form and materials. Details are streamlined and modernized, while the overall form echoes American nastolgia. Past the expansive and welcoming front patio, one enters through the element of glass tying together the two main brick masses.

The airiness of the entry glass wall is carried throughout the home with vaulted ceilings, generous views to the outside and an open tread stair with a metal rail system. The modern openness is balanced by the traditional warmth of interior details, including fireplaces, wood ceiling beams and transitional light fixtures, and the restrained proportion of windows.

The home takes advantage of the Colorado sun by maximizing the southern light into the family spaces and Master Bedroom, orienting the Kitchen, Great Room and informal dining around the outdoor living space through views and multi-slide doors, the formal Dining Room spills out to the front patio through a wall of French doors, and the 2nd floor is dominated by a glass wall to the front and a balcony to the rear.

As a home for the modern family, it seeks to balance expansive gathering spaces throughout all three levels, both indoors and out, while also providing quiet respites such as the 5-piece Master Suite flooded with southern light, the 2nd floor Reading Nook overlooking the street, nestled between the Master and secondary bedrooms, and the Home Office projecting out into the private rear yard. This home promises to flex with the family looking to entertain or stay in for a quiet evening.