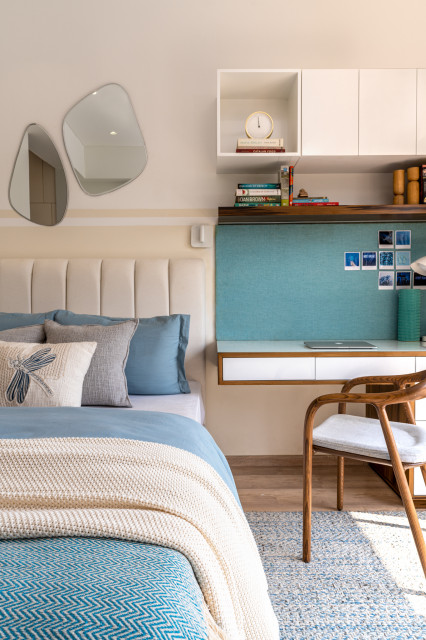 Meraki Home
A warm, inviting and homely décor was achieved by introducing natural materials, textured fabrics, wooden elements and hints of metal. Wall-mounted light fixtures avoided cluttering of table tops and the bed heights were ergonomically designed according to the comfort of the end user. While planning the home, Priyanka ensured that all the four bedrooms of the home have an ensuite bathroom. The size of the kitchen was reduced to scoop out a dedicated space for ironing clothes and storage.



The living room comprises a feature wall with an array of square shaped mirrors which reflects a lot of light and creates the feeling of spaciousness while the carpets and cushions stand out in shades of blue. The dining room is multifunctional and includes a circular dining table with an Italian marble top, a built-in crockery unit, a bar and a modern puja space. The bespoke furniture is customised by Chalk Studio and executed with a lot of detail.



Each bedroom is skilfully crafted so that it includes a bed, side tables, a study table and an accent element which can transform the overall look of the bedroom. A floating study and TV unit in the master bedroom brings in the feeling of openness, sky blue colour is used in the daughter's bedroom to accentuate the bed and pin up board while tones of grey and black fabric heighten the ambience of the son's bedroom.



The carpet is sourced from Jaipur rugs while the collection of cushions is from Sarita Handa and Rajee Sood. The artefacts are specially handpicked from Oma, Bo Concept, Gigi, Chakra and the chandelier is custom-made by The Lighting Studio. Custom touches and clever planning come together to create a highly luxurious and comfortable multifunctional space.


What Houzz contributors are saying:

Homes with Similar Colours