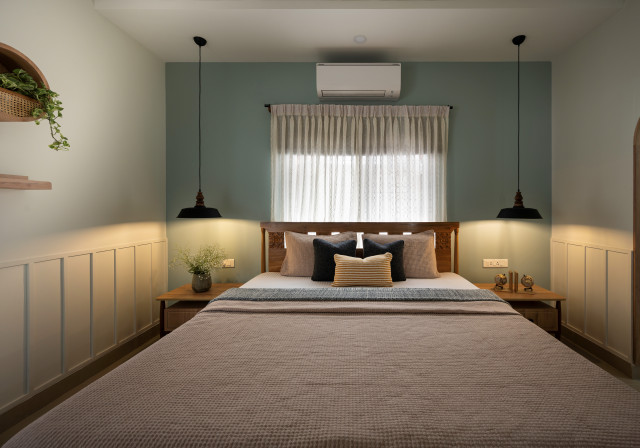 Master Bedroom
Moving upto the master bedroom, we put together this space to give out vibes that are summery, light and fresh to say the least. A room so simple, so pared down yet
exponentially high on elegance. Fresh whitewashed walls with just the headboard wall glowing with the most tranquil blue tones, this room is soft as a whisper. The
headboard wall had the only large window of the room that we did not want to close. Hence we played with this structural element to work gracefully as our backdrop, bh
adding delicately embroidered sheet curtains to lend a beautiful background silhouette. The main fabric was added i. The form of blinds to make an unconventional
blind and curtain combo. Ahead of this sat our stately, hand carved wooden bed that boasted of details so fine. To complement this, we custom made the bedside tables in similar wood details. Classic black pendant lights lit up both sides of the bed in gleams wisps of light, making the whole bed situation so dreamy. Adding a touch of drama to the closet entryway, we panelled out an arch and furthered this with an arched cove lit mirror. Infusing a beautiful pop of colours and patterns, we handpicked a stunning tropical print wallpaper to induce some glam into the otherwise subtle closet space.
Bedrooms with Similar Colours