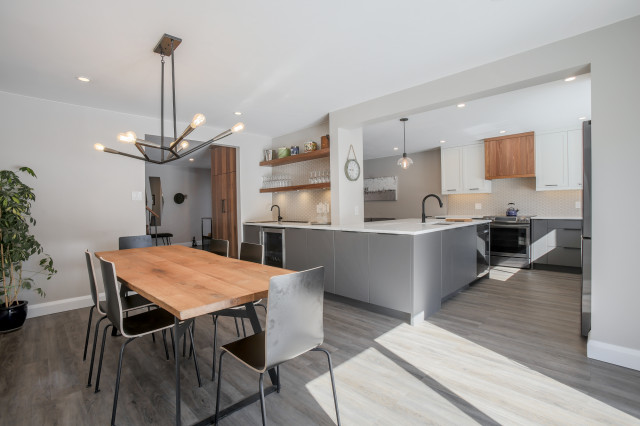 Marvelous Moresby
Cory Residence

Decidedly Scandinavian influence, and minimalist details make this sleek kitchen shine.
When the owners purchased this property, it was dramatically different from the new layout.
All very closed off – with only small openings between each room, making the space feel dark and small. Walls were removed, and the kitchen was moved from the original dining location to create a better a relationship from room to room. This enabled a large wrap around peninsula that transitions into a bar with wine cooler and use as a dining server. Ample seating for casual eating flanks the living room side of the peninsula, with simple post details. The overall result has dramatically improved the look and function of the space which can accommodate several helpers at one time.

The Warm grey cabinetry and walnut accented hood and floating shelves a moody, masculine palate and adds feeling of warmth to the space, while the white upper cabinets provide the needed lightness to balance it all off. Blending the combination of shaker styled upper cabinetry provides just enough detail to the design. The thermofoil dark grey slab door base cabinetry adds the right touch of modern, and ensures ease of clean up of base cabinetry for a busy household. The hexagonal tile backsplash carried up to the ceiling draws the eye upward giving the illusion of more height in the space, and adds texture and added warmth. Accessories such as the spice pull out cabinetry which flank each side of the range providing easy access storage for need at hand items.


Dining Rooms with Similar Colours