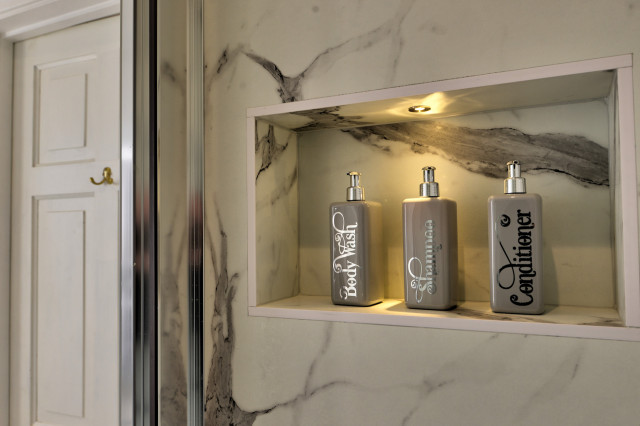 Marble Bathroom in Worthing, West Sussex
Marble Bathroom in Worthing, West Sussex
A family bathroom and en-suite provide a luxurious relaxing space for local High Salvington, Worthing clients.

The Brief
This bathroom project in High Salvington, Worthing required a luxurious bathroom theme that could be utilised across a larger family bathroom and a smaller en-suite.
The client for this project sought a really on trend design, with multiple personal elements to be incorporated. In addition, lighting improvements were sought to maintain a light theme across both rooms.

Design Elements
Across the two bathrooms designer Aron was tasked with keeping both space light, but also including luxurious elements. In both spaces white marble tiles have been utilised to help balance natural light, whilst adding a premium feel.
In the family bathroom a feature wall with herringbone laid tiles adds another premium element to the space.
To include the required storage in the family bathroom, a wall hung unit from British supplier Saneux has been incorporated. This has been chosen in the natural English Oak finish and uses a handleless system for operation of drawers.
A podium sink sits on top of the furniture unit with a complimenting white also used.

Special Inclusions
This client sought a number of special inclusions to tailor the design to their own style.
Matt black brassware from supplier Saneux has been used throughout, which teams nicely with the marble tiles and the designer shower screen chosen by this client. Around the bath niche alcoves have been incorporated to provide a place to store essentials and decorations, these have been enhanced with discrete downlighting.
Throughout the room lighting enhancements have been made, with wall mounted lights either side of the HiB Xenon mirrored unit, downlights in the ceiling and lighting in niche alcoves.
Our expert fitting team have even undertaken the intricate task of tilling this l-shaped bath panel.

Project Highlight
In addition to the family bathroom, this project involved renovating an existing en-suite.
White marble tiles have again been used, working well with the Pewter Grey bathroom unit from British supplier Saneux's Air range. A Crosswater shower enclosure is used in this room, with niche alcoves again incorporated.
A key part of the design in this room was to create a theme with enough natural light and balanced features.

The End Result
These two bathrooms use a similar theme, providing two wonderful and relaxing spaces to this High Salvington property. The design conjured by Aron keeps both spaces feeling light and opulent, with the theme enhanced by a number of special inclusions for this client.
If you have a similar home project, consult our expert designers to see how we can design your dream space.
To arrange an appointment visit a showroom or book an appointment now.

Bathrooms with Similar Colours