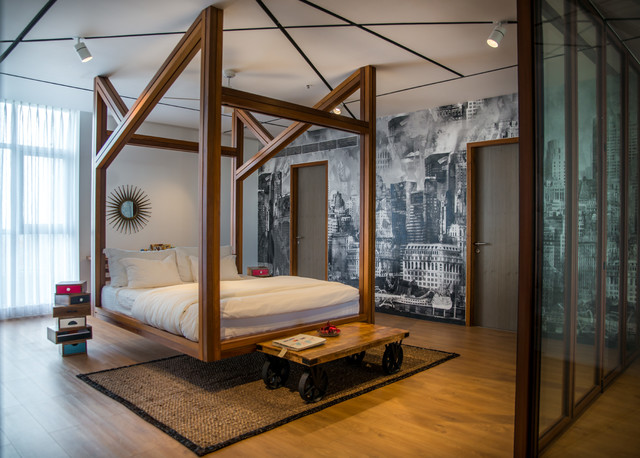 Manish Jain Apartment
Designed by Moriq Interiors
What Houzz contributors are saying:

Pooja Khanna Tyagi added this to How to Choose Wood for Your Carpentry Work
10 December 2018
4. Fire resistanceHardwood trees grow more slowly and are more dense than softwood. Hence hardwood has better fire-resistance properties than softwood. 5. Moisture contentWood is hygroscopic in nature – it has the tendency to absorb water from the atmosphere, depending on the level of humidity and the kind of wood. Good-quality wood has high resistance to water and does not warp, while poor-quality wood retains moisture, warps and is prone to fungal attacks. Also, newly felled wood is still full of moisture. It is essential to go only for seasoned (dried) wood or to dry the wood completely before using it for carpentry work. Tip: Involve your carpenter when purchasing wood so that he can check the quality and moisture content of wood. Many a time, wooden sections that reach the site are not fully seasoned and bend after drying, which makes them unsuitable for use.

Aditi Sharma Maheshwari added this to Busted! 5 Myths About Hiring an Architect
13 June 2017
Myth 2. An architect is a designer and a contractor all in oneSometimes, clients expect the architect to design their house and then be responsible for its construction as well. "This is an issue we have had to deal with multiple times; invariably inexperienced clients have this notion. Each is its own specialised field, both of which, at times, are grouped as one," Kayzad Shroff says.Need help with building a home or on a home renovation project? Find an architect from the Houzz professionals directory near you
Bedrooms with Similar Colours